For the second straight week, West Virginia will be an underdog according to the Vegas oddsmakers. NC State is favored by 6.5 points for the noon kickoff in Morgantown.
Last week against Mizzou West Virginia was an underdog by around two touchdowns. The Tigers took care of business and covered the line with ease, defeating the Mountaineers by a final score of 38-7.
This led to some research. I had a hard time recalling the last time West Virginia won a game as an underdog. So the only option was to take a trip into the archives.
WVU's Record as an Underdog
2019 Season (0-1, Straight Up, 0-1 Against the Spread)
at Missouri (+13.5)
Trending: Pat McAfee is Far More Responsible for the 13-9 Pitt Loss than Rich Rodriguez
Final Score: WVU 7, Missouri 38
2018 Season (0-1, SU, 0-0-1 ATS)
vs Oklahoma (+3)
Final Score: Oklahoma 59, WVU 56
2017 Season (0-4 SU, 1-3 ATS)
vs Virginia Tech (played at FedExField) (+5)
Final Score: WVU 24, Va Tech 31
at TCU (+12)
Final Score: WVU 24, TCU 31
at Oklahoma State (+8.5)
Final Score: WVU 39, Oklahoma State 50
at Oklahoma (+23)
Final Score: WVU 31, Oklahoma 59
2016 Season (0-2 SU, 0-2 ATS)
vs Oklahoma (+3.5)
Final Score: WVU 28, Oklahoma 56
vs Miami (Camping World Bowl) (+3)
Final Score: WVU 14, Miami 31
2015 Season (0-3 SU, 0-3 ATS)
at Oklahoma (+6.5)
Final Score: WVU 24, Oklahoma 44
at Baylor (+20.5)
Final Score: WVU 38, Baylor 62
at TCU (+12)
Final Score: WVU 10, Baylor 40
WVU's Record as an Underdog Since 2015:
(0-11 SU and 1-9-1 ATS)
So since the start of the 2015 season, West Virginia is 0-11 as an underdog and 1-9-1 against the Vegas line. The losing streak actually extends to 12 games as WVU lost to TCU 31 to 30 in the 2014 season.
The last WVU win as an underdog came October 18, 2014 when West Virginia took down Baylor by a final score of 41 to 27. Baylor was favored by 8.5 points in that game.
If you were wondering about the win in Austin last season over Texas, West Virginia was actually favored by one point in that game. The line moved a lot and there were times when Texas was actually favored in the game, but at kickoff most book had it at WVU -1. If you want to reach a little we could call that one an upset, but really it wasn't.
When many fans think of signature wins for WVU, they think of upsets. The win over Oklahoma State in the Fiesta Bowl. Taking down the Georgia Bulldogs in the Sugar Bowl in the Georgiadome. The win over No. 4 Miami in 1993. Then there was the win over No. 3 Virginia Tech at Mountaineer Field in 2003.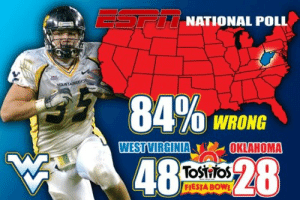 More Stories on WVU Football:
While a win over NC State would not be on the level of the upsets mentioned above, West Virginia is definitely overdue for an upset. Look for a spirited effort on both sides of the ball for the Mountaineers as the team should be fired up for the noon kickoff against an ACC team.

Become a Mountaineer Sports Insider