WVU Scored 2 Non-Offensive Touchdowns In 45 Seconds Against Oklahoma State – VIDEO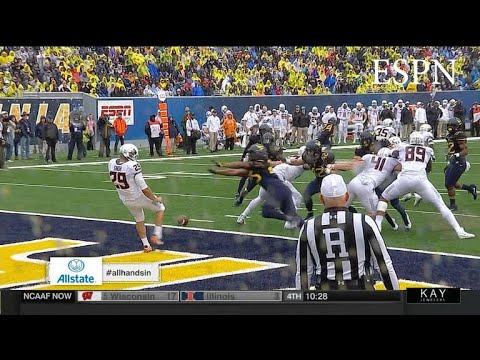 No. 11 Oklahoma State had a 30-10 lead on No. 22 West Virginia with four minutes left in the third quarter. Then WVU scored two non-offensive touchdowns in 45 seconds. Without the offense even taking the field WVU cut the lead down to 30-24.
The first touchdown was on a crushing punt block recovered by Marvin Gross in the end zone. It's always good to score a touchdown on a 0-yard return.
https://www.youtube.com/watch?v=5uasw6AwmJ0
On the ensuing drive for the Pokes, Mason Rudolph threw an interception that Kenny Robinson returned 39 yards for a touchdown.
What a terrible decision by Rudolph.
Regardless, Oklahoma State recovered and dominated the rest of the way. The Pokes offense woke up and put the game away. The final score was 50-39 and the Mountaineers were never able to get that close again.
It makes you wonder what the final score would have been if not for these two big plays by defense and special teams.
After the game Mike Gundy made a great point about how things went down from the end of the third quarter on in this game.
If somebody told Gundy Pokes would win despite pick 6/punt block he would have said they were drinking "and wished I was drinking with them"

— Chris Low (@ClowESPN) October 28, 2017
The fact that the Mountaineers were able to score two non-offensive touchdowns against the Cowboys and still lose convincingly at home tells you a lot about how far WVU has to go to get to the upper echelon.