WVU Releases Official Depth Chart for Kansas Game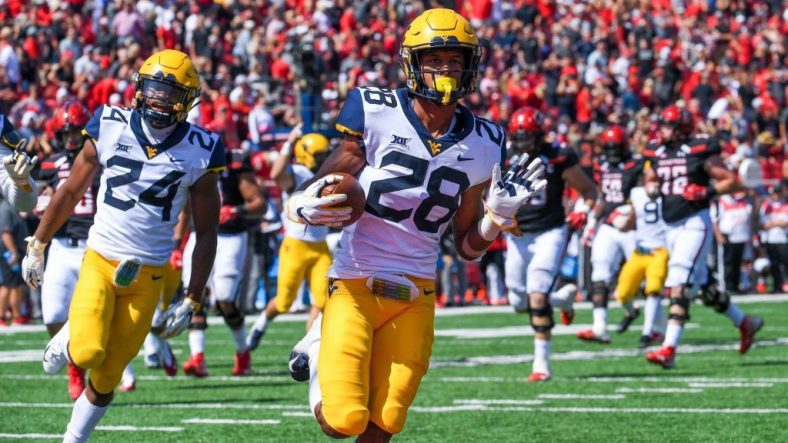 It's homecoming and the Mountaineers are set to take on the Kansas Jayhawks Saturday at noon. WVU released their offiical depth chart for the game. Check it out below:
Offense
QB: Will Grier, Jack Allison
RB: Kennedy McKoy, OR Martell Pettaway, OR Alec Sinkfield OR Leddie Brown

WR (X): Marcus Simms, Dominique Maiden
WR (Y): Gary Jennings, William Crest
WR (Z): David Sills V, T.J. Simmons
TE (H): Trevon Wesco, Jovani Haskins
LT: Yodny Cajuste, Kelby Wickline
LG: Josh Sills, Michael Brown
C: Matt Jones, Jacob Buccigrossi
RG: Chase Behrndt OR Joe Brown
RT: Colton McKivitz, Isaiah Hardy
Defense
DE: Ezekiel Rose , Reese Donahue
NT: Kenny Bigelow, Darius Stills
DE: Jabril Robinson, Dante Stills
Sam: JoVanni Stewart, Shea Campbell
Mike: Dylan Tonkery, Adam Hensley
Will: David Long, Josh Chandler
LCB: Keith Washington, Hakeem Bailey
RCB: Josh Norwood, Derrek Pitts
Spur: Dravon Askew-Henry, Deamonte Lindsay
Bandit: Toyous Avery, Dante Bonamico
Free: Kenny Robinson, Sean Mahone
Special Teams
K: Evan Staley, Luke Hogan
P: Billy Kinney, Evan Staley
LS: Rex Sunahara, Kyle Poland
H: Billy Kinney, Luke Hogan
KO: Evan Staley, Luke Hogan
PR: Marcus Simms, David Sills V
KOR: Marcus Simms, Gary Jennings
Credit to 247Sports.com.
Saturday's game will be televised on ESPN2.
Let's go Mountaineers!