WVU QB Commit Garrett Greene Lit It Up in Leading Team to Comeback Win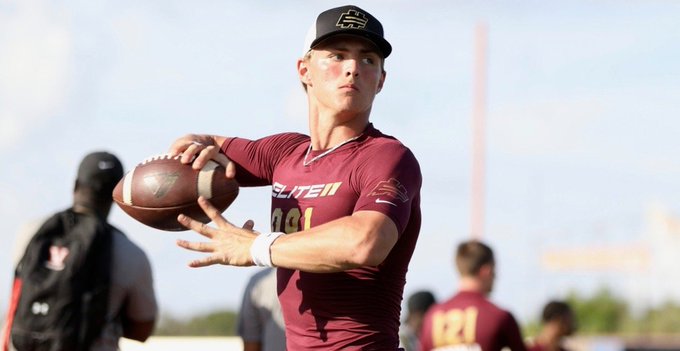 After falling behind by a score of 18-3, WVU commit Garrett Greene threw for two touchdowns and ran for another, leading Chiles to a 25-18 season opening win over Rickards.
Green passed for 148 yards and rushed for 68 yards for the Timberwolves.
It was this 32-yard touchdown pass and the ensuing two-point conversion that tied the game up at 18 with 11:04 to go in the 4th quarter.
Garrett Greene makes something out of nothing. 32-yard TD pass to Bryson Cooksey. 2pt conversion run by Chase Gillespie is good and … WE ARE TIED. Chiles 18, Rickards 8; 11:04 4Q pic.twitter.com/oyRdqHaVU9

— Big Bend Preps (@bigbendpreps) August 23, 2019
Then it was this scramble and 10-yard touchdown pass + extra point that gave the Timberwolves the lead at 25-18 which would be the eventual final score.
You can check out the highlights for the entire game here, from Tallahassee.com.
More Stories on Class of 2020 WVU QB Commit Garrett Greene:
If you follow Garrett on Twitter, then you know he's very active on the recruiting trail, hoping to bring more talent to Morgantown with him.
It was great to see that even when Ohio offensive lineman Branson Taylor chose Pitt, Greene still wished him well.
This is a classy, talented young man who is fired up to be a Mountaineer. It's going to be exciting to see him in the Mountaineer uniform.