WVU Football Leads the Nation in Undesirable Statistic
Anyone who has watched the first two WVU football games of the year realizes that the team leaves a lot to be desired when it comes to rushing the football.
Well, this stat shows just how bad the WVU rushing offense actually is. West Virginia ranks dead last in the FBS in yards per rush. So far WVU averages 1.1 yards per rush over the first two games. 56 carries for 64 yards.
The next team is Akron, who is ranked 129th in yards per attempt with 1.5 yards per carry.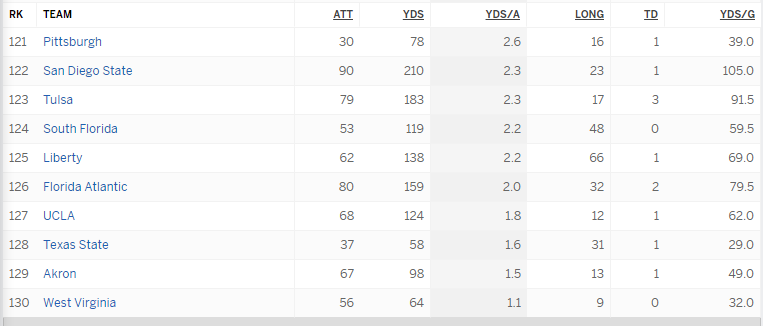 When it comes to total rushing yards on the season, West Virginia is ranked 129th out of 130.
With 64 rushing yards on the season that puts West Virginia ahead of only Texas State, who has 58 yards on the season. Just ahead of WVU in the total rushing yards standing is Pittsburgh, with 78 yards rushing on the season. There is some seriously abysmal rushing going on in this part of the country.
It could be said that West Virginia is fortunate to have the yards and average they have at this point. Midway through the fourth quarter of the game against Mizzou, WVU had -7 rushing yards. With the backups in for Mizzou, West Virginia was able to surge up to 30 rushing yards. Over half of the Mountaineer rushing yards on the season came near the end of a blowout against backups.
More Stories on WVU Football
Up next the NC State Wolfpack come to town. No one said this was going to be easy. But a strong showing against NC State would be great after the extremely tough game against Kelly Bryant and the Missouri Tigers.
Many people will be up in arms in this article. We're just reporting facts. As Neal Brown said, we are "disappointed but not discouraged."
#TrustTheClimb