WVU Football Defensive Lineman Preview/Starter Projections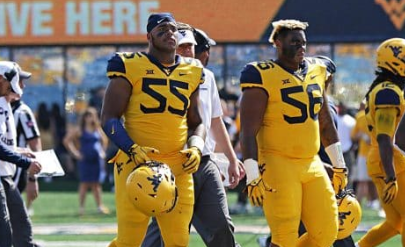 Spring practice starts today, so these position battles will sort out soon. Despite this we are putting ourselves on the line and predicting who the starters will be.
While at Troy, defensive coordinator Vic Koenning used three conventional defensive linemen and a "bandit." The three linemen were labeled as defensive end, defensive tackle and nose guard. The "bandit" is a hybrid rush linebacker who can act as a fourth lineman at times and can also drop into coverage. Last season the defensive end was 6'4″ and 241 pounds, the defensive tackle was 6'3″ and 279 pounds and the nose guard was 6'2″ and 327 pounds. While it's not certain these three will be starting, it's a sure bet these three will be getting plenty of playing time.
West Virginia has three linemen coming back that are much more experienced than the others: Reese Donahue, Darius Still and Dante Still. Those three are going to be slotted in at the three traditional lineman slots, with a wildcard lining up as "bandit."
Projected Starters on the WVU Offensive Line
Nose Guard Darius Stills (Junior)
The older Stills brother will be getting plenty of playing time in the upcoming season. We have him slotted it at starting nose tackle. At 6-1, 290, he has the size necessary to jam up the middle and fits the role the best out of the returning d-linemen. He lined up at nose guard mostly last season.
Stills' roll increased each of his first two seasons and look for that to continue in the upcoming season. In the 2018 season he played in 12 games with 12 tackles and a sack. The sack came against Syracuse in the Camping World Bowl.
Nose Tackle Dante Stills (Sophomore)
Nearby Fairmont Senior High School is well represented on the WVU defensive line. And Mountaineer great Gary Stills will be beaming with pride since both of his sons will be on the starting defensive lineman.
Dante Stills came in as a blue chip prospect, choosing West Virginia over Oklahoma, Michigan State, Miami and basically everyone else in the country. He could have went anywhere and he chose to be a Mountaineer.
During his freshman season Stills had 16 tackles, three sacks and 6.5 tackles for loss. He also forced fumbles. The success of this defense really hinges on Dante Stills reaching his potential and developing into a start. He can play anywhere on the defensive line and will surely be moved around, but he has the size and athleticism to wreak havoc at nose tackle. Last year he played defensive end.
Defensive End Reese Donahue (Senior)
Donahue has been a major contributor on the defensive line for the past three seasons. Last season he saw action in 12 games and had 24 tackles, one sack, two tackles for loss and a fumble recovery. His experience will be very invaluable on the Mountaineer front.
Bandit Tajih Alston (Redshirt Sophomore)
Tajih Alston initially attended East Carolina before transferring to Copiah-Lincoln CC and eventually landing in Morgantown. He has the prototypical size, speed and athleticism to play the bandit position in Vic Koenning's defense. Alston is 6'4″ 245 and played defensive end during his freshman season at Copiah Lincoln CC. While there he earned All-Mississippi Association of Community and Junior Colleges (MACJC) First-Team honors.
Jordan Lesley Assistant Coach (Defensive Line)
Jordan Lesley was brought in by head coach Neal Brown in January. He has had three years on Brown's staff, with his first two seasons as defensive tackles coach and last season as the defensive line coach.
Not only did Lesley coach at Troy, but he was also a player and a two-year starter at tight end.
Troy's defensive success relied upon getting pressure on the quarterback and forcing turnovers, as most successful defenses do.
Summary
With a mix of experience and incoming talent it will be interesting to see how the West Virginia defensive line performs in the 2019 season. Dante Stills was one of the biggest recruits in recent history and we predict big things for the sophomore in 2019.