WVU Football and The Pride of West Virginia Band Together – #TrustTheClimb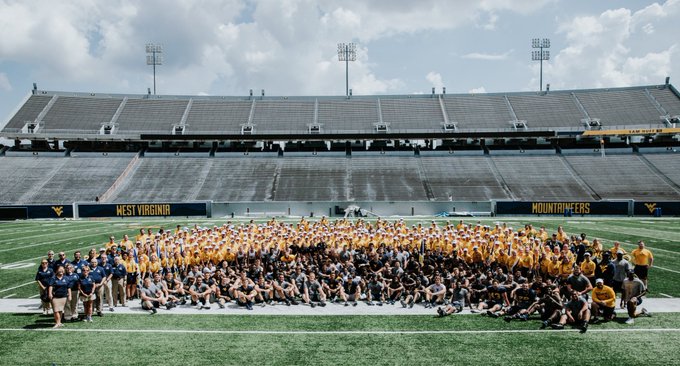 We are halfway through August and before you know it the WVU football team and the Pride of West Virginia will be performing at Mountaineer Field.
Well, today after the final open practice of fall camp there was a preview of what's to come when the Mountaineer Marching Band and the WVU football team united at Mountaineer Field.
Check out this video of the interactions between the band and the football team. It's great to see the football team showing love and enjoying themselves while the band does their thing.
And once again, Neal Brown gets it. He knows what the band means to the state of West Virginia and he makes sure they know it as well and let's them know just how much he appreciates them and the work they put in.
Plus, what a cool experience for the band. They were able to get photos and interact with the team and even join together for this epic photo at the conclusion:
Mountaineer fans are fired up about Neal Brown and the upcoming season. Check out some of the tweets from WVU fans showing love for Neal Brown after he tweeted the incredible photo:
As an alumni this is very very cool to see. Wish we had this level of interaction with the football team and staff while I was in band. Love seeing what @NealBrown_WVU is doing to change the culture already!

— Barak (@barakgoogel) August 15, 2019
Thank you to Coach Brown and other coaches! My daughter is in the band and absolutely loved this moment! ??

— Wendy Witherell (@wendywvurn) August 15, 2019
https://twitter.com/BrowntownV/status/1162096518876336128
Ladies and gentlemen, it's almost football season! Two weeks from Saturday the Neal Brown era will be underway and the Mountaineers will be taking on James Madison at Mountaineer Field.
More articles to get you fired up for the season: