WATCH: WVU Defender Punches Baylor Player During Tackle Attempt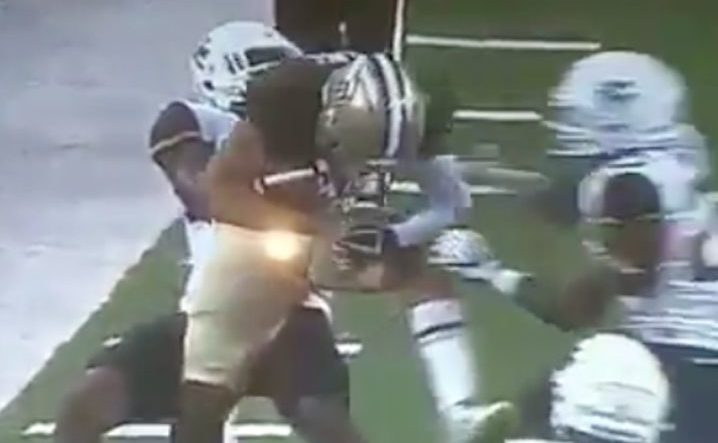 Credit: Barstool Sports
Normally "delivering punches" is a metaphorical phrase that coaches use. Not this time. A WVU defender punches a Baylor player during a tackle.
Mountaineer defensive back Corey Winfield stuck the jab on a Baylor player's head. It was clearly an attempt to knock the ball out of his hands, but still, it was a punch to the helmet in a football game. File that under things you don't see every day. It did knock the ball out and Winfield was not ejected from the game.
Barstool WVU tweeted a video of the play with the caption "Give me your lunch money."
https://twitter.com/WVUBarstool/status/921929646689718272
This play was dangerous for both players involved, but probably more for the West Virginia defender Winfield. His hand could have easily been injured while he was delivering the blow, because helms aren't exactly soft.
While it is pretty obvious that a player would not intentionally punch another player in the head, Saturday Down South seems to think that it was clearly intentional and will be facing discipline.
Per Saturday Down South:
Though it happened so fast, it certainly looked like the punch was deliberate, as the player came flying in and extended his fist.
It's safe to say the Big 12 will be reviewing that play this coming week, and the puncher may find himself facing some extra discipline moving forward.
Come on now. Do you really think Winfield intentionally punched a player in the head in the middle of a live game? That is extremely dumb on so many levels, there is just no way.
What do you think? Is there any way that Corey Winfield intentionally punched a Baylor player in the head during the middle of a play on purpose?