WVU Defeats SEC Powerhouse in West Palm Beach Invitational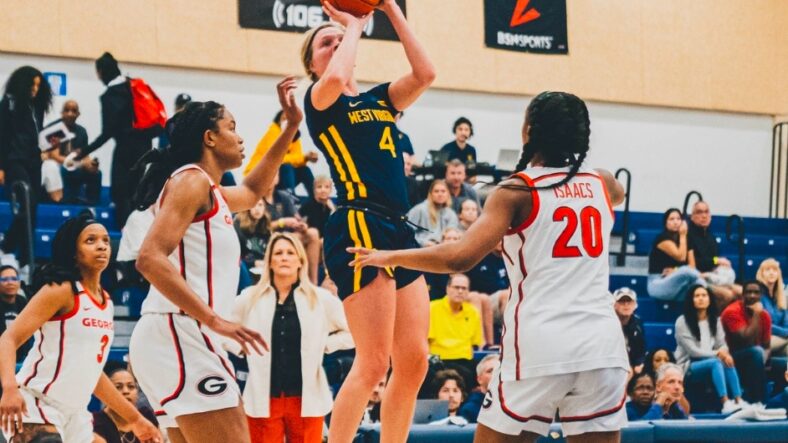 WEST PALM BEACH, FL.——The West Virginia Mountaineer Women's basketball team came from behind to nip the Georgia Bulldogs 49-45 at the West Palm Beach Invitational Tuesday night.
Georgia dominated the Mountaineers in the first two quarters taking a 34-22 halftime lead. WVU used a solid defense in the third quarter to start the comeback allowing only three points for the Bulldogs. WVU dominated the third quarter going 12-3. The Mountaineers forced five turnovers and scored six points off of them. Kylee Blackstein and Danni Nichols combined for eight of the 12 points to cut the lead to 37-34.
Madisen Smith tied the game at 37 in the first minute of the fourth. It was the first points of the game for Smith. 39 seconds later the Mountaineers took their first lead of the game when Jayla Hemmingway added another three to push WVU's run to 14-0.
Georgia's Brittney Smith finally had a layup to stop the scoreless drought. That cut the Mountaineer lead to just one but WVU went on another 4-0 run. The Mountaineers forced another five turnovers in the quarter scoring seven points.
Danni Nichols led the Mountaineers with 13 points and Jayla Hemmingway was the only other Mountaineer to get into double digits with 11 points. WVU shot 39 percent from the field holding Georgia to 30 percent. WVU forced 19 turnovers.
WVU is now 8-2 and Georgia, 10-3. WVU will face Miami (OH) in the tournament Wednesday afternoon.