WVU Bounces Back In Latest Bracketology
At this point you might be over Joe Lunardi and are just going to tune in Selection Sunday. Completely understandable. In his latest projections, WVU bounces back and is listed as a No. 4 seed in the East region, a place they've spent a large portion of the Bracketology projections. The first round opponent for the Mountaineers would be Old Dominion. A first round win would result in a game against the winner of Florida and Buffalo. The East region also contains No. 1 Villanova, No. 2 Duke, No. 3 Michigan and No. 11 Texas. That's an extremely tough region.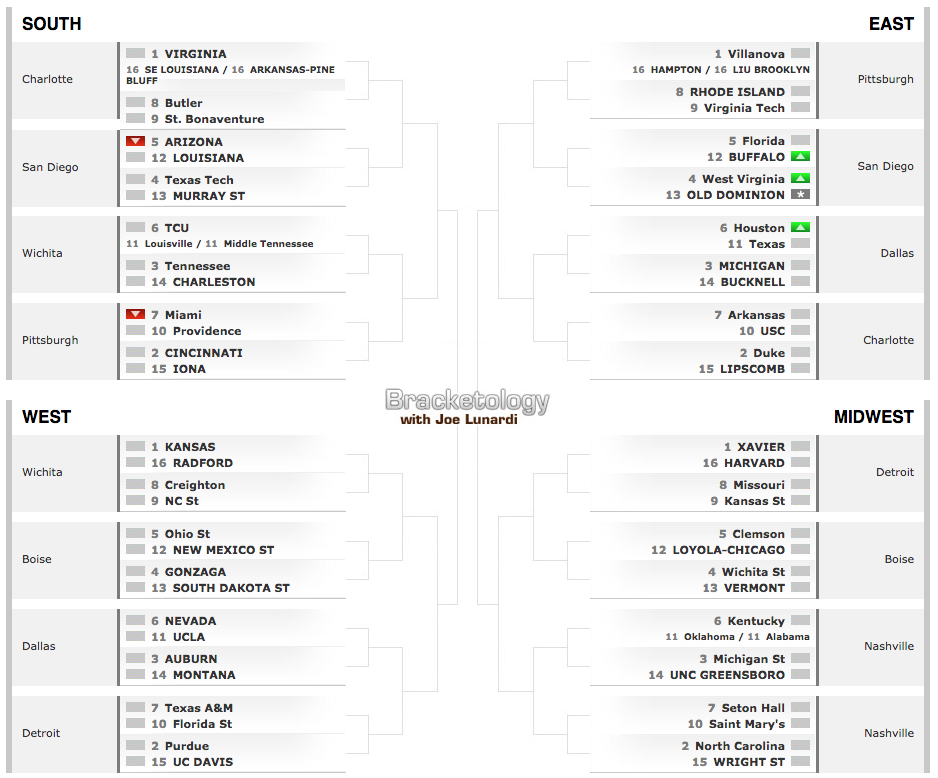 According to Lunardi's projections, this loss was very costly for Baylor. They are now listed among the "Next Four Our" meaning they have a very silm chance of making it as there are teams in front of them that can still improve their resume.
The Oklahoma Sooners are still listed among the "Last Four In." Oklahoma State is listed first among the "Last Four Out." The Big 12 could get anywhere from six to nine teams in the NCAA Tournament, with three teams dangerously close to the bubble. Texas is the last team listed among the "Last Four Byes" so even they are not completely safe.
West Virginia moved up from a No. 5 seed to a No. 4 seed after their big win over Baylor last night in the quarterfinals of the Big 12 Tournament.
???? Highlights from West Virginia's 78-65 victory over Baylor to advance to the #Big12Hoops semifinals. #HailWV pic.twitter.com/XAYzf2Z4ql

— WVU Basketball (@WVUhoops) March 9, 2018
The Big 12 teams safely in the tournament include No. 1 seed Kansas, No. 4 seeds West Virginia and Texas Tech and No. 9 seed Kansas State. Could be a wild Selection Sunday for the Big 12.
Up next, the Mountaineers take on No. 14 Texas Tech in the Big 12 semifinals. Tip off is slated for 9 p.m. on ESPN2, but before the Red Raiders and Mountaineers can lock horns, the other semifinal game between Kansas and Kansas State will happen at 7 p.m.