Will West Virginia Overtake Kansas And Win The Big 12 Regular Season Title? – POLL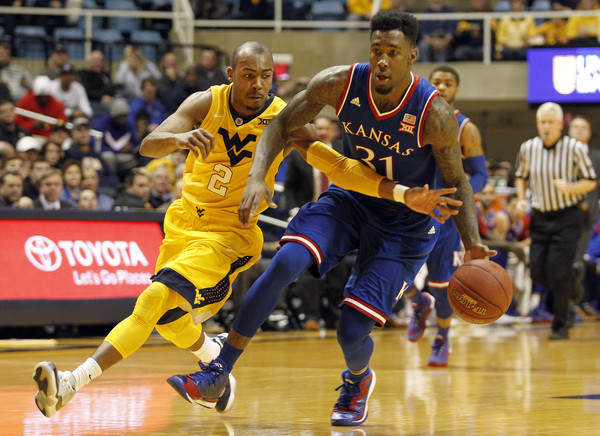 13 seasons in a row teams have tried and failed to knock Kansas off their Big 12 regular season throne. Is this season different? Will West Virginia overtake Kansas and win the Big 12 this season? Many teams have felt very good about their chances of winning the regular season title over the Jayhawks. Over the last 13 years they have fall failed. The last team to win an outright league title over Kansas? The 2004 Oklahoma State Cowboys. That team had a 31-4 record and made a trip to the Final Four.
Will West Virginia overtake Kansas and win the Big 12 regular season title this season? Vote in our poll!
The Mountaineers did not have the start they were hoping for this season. They traveled to Germany and were crushed by Texas A&M. That's a long way for a beatdown. After that the team did what a Bob Huggins team does. They got better. Since then they have reeled off nine straight wins including a win over No. 16 Virginia and a tough road win over bitter rival Pitt in the Backyard Brawl. The winning streak has pushed WVU to No. 11 in the country.
This version of Bob Huggins' Mountaineers is led by their two senior guards, Jevon Carter and Daxter Miles. They have helped their young supporting cast improve every game. Carter, the reigning Big 12 Defensive Player of the Year, is a top contender for the Big 12 Player of the Year this season. He is averaging 19.4 points, 5.5 rebounds, 6 assists and 3.8 steals per game. He is shooting 45% from the field along with 43% from deep. That is what you call filling the stat sheet. His backcourt mate, Daxter Miles Jr., is scoring 14.6 points per game on 46% shooting from the field. Following Carter's lead, Miles has stepped up his defense a great deal this season, averaging 1.5 steals per game.
Lamont West and James Bolden have come on strong from deep lately. West played a huge part in the win over Virginia, hitting four three-pointers and finishing up with 22 points. The streaky shooter is averaging 12 points per game. He does a great job guarding the inbounder with his length. Bolden is the sixth man for the Mountaineers. He does a good job hustling on defense, going after loose balls and can make you pay from deep. "Beetle" Bolden is scoring 11 points per game on 50% shooting from the field and 48% from three-point range.
Sophomore forward Sagaba Konate has provided the Mountaineers with interior toughness they are lacking while Esa Ahmad is out. Konate is averaging eight points, six boards and more than 3 blocks per game. When Esa Ahmad comes back that will give Konate a skilled big to pair with him to help wreak havoc under the basket.
Just last year the Mountaineers nearly swept the Jayhawks during the regular season. In Lawrence the Mountaineers had a 14-point lead with less than four minutes to go. WVU ended up losing the game in overtime by a final score of 84-80.
In Morgantown the Mountaineers crushed the Jayhawks by a final score of 85-69.
This looks like it could finally be the year to take down Kansas and take home the Big 12 regular season title. With the experienced guards to go with the full-court pressure defense the Mountaineers have what it takes to do it. When the press isn't working Bob Huggins' squad can pull off the pressure and play excellent half-court defense. Also the 1-3-1 zone is a wrinkle that has given opponents fits. When Esa Ahmad comes back that could be what puts the Mountaineers over the top and makes them the Big 12 favorites.