What if Holgorsen Didn't Leave?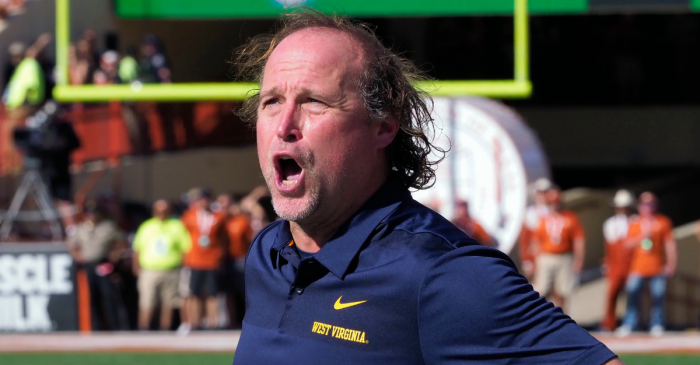 West Virginia's 3-6 start is somewhat pleasantly surprising considering the incredible turnover from last season.  The Mountaineers lost starters Derrek Pitts, a safety with a lot of game experience, Kenny Robinson, an All Big 12 Safety who started every game last season,  and wide receiver Marcus Simms, who was WVU's leading returning pass catcher.
While it's not guaranteed that West Virginia would still have these three players if Dana Holgorsen stayed as the Head Coach, it seems likely that they would have stayed.  It's also impossible to predict which transfers that Neal Brown brought in would have still ended up in Morgantown, but Austin Kendall and Jarret Doege, both who had relationships with Brown prior to this season, would have likely chosen to go elsewhere.  George Campbell and Sean Ryan, both who were searching for a fresh start in a place desperate for receivers, would have probably gone somewhere else as well.
When considering what WVU's record would be with Holgorsen in charge this season, we must go with the assumption that Pitts, Robinson and Simms would still be here and Kendall, Doege and one of the aforementioned receivers (Campbell or Ryan) would not be here.
With Kendall and Doege out of the picture, Holgorsen would have been left with Jack Allison, who he seemed to be grooming to be his eventual starter, and Trey Lowe, who was likely considered a serviceable backup this season with big upside for the future.  Holgorsen also mentioned in a press conference at Houston that he was in contact with Jalen Hurts, who transferred from Alabama to Oklahoma during the offseason.  Although a long-shot, Holgorsen brought in Will Grier from Florida and Hurts may have seriously considered transferring to West Virginia for his Senior season.
With that said, the odds are that Jack Allison would have been named the starter and Trey Lowe the backup.  Looking ahead to future recruiting classes, Garrett Greene was said to be close to committing to Troy to play for Neal Brown prior to his move to West Virginia so he would not have ended up in Morgantown.  Potential in-state recruits  Sean Martin, Wyatt Milum, Isaiah Johnson and Zeiqui Lawton would almost certainly not have considered WVU because Holgorsen simply wouldn't recruit them.
Simply looking at this year, though, there wouldn't be too much of a difference.  The Mountaineers would likely still be 3-6 with a win against James Madison (perhaps in a more convincing fashion), a loss at Missouri (in a somewhat closer game), a win at home against NC State (similar result), a win at Kansas (probably by a few touchdowns),  and losses against Texas, Iowa State, Oklahoma, Baylor and Texas Tech.
With little talent left to work with and West Virginians growing tired of his embarrassing antics on the sidelines, Holgorsen would have likely been on the hot seat or fired following this season.
While the current team would be about the same, the future of the team would be very different and much less bright.  Rather than piecing together a team from transfers and players with questionable backgrounds, Brown is building a team and a culture in Morgantown that will have sustained success by doing things the right way and with the right players.  Although Dana Holgorsen didn't leave for Houston under the most ideal circumstances and left Neal Brown with very little to work with in his first season, his departure has been an absolute blessing in disguise.