West Virginia's Man Child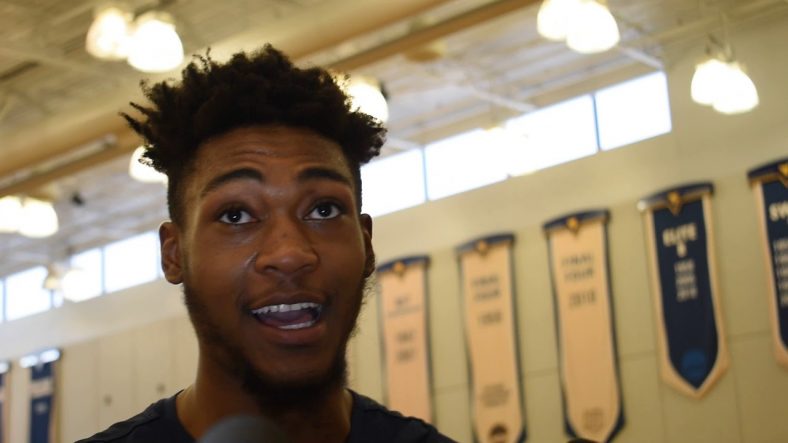 After last year's disappointing basketball season, it's easy to forget just how dominant Derek Culver was.   The 6'10 255 pound Sophomore, was a force as a Freshman last year.
Culver, a double-double machine, averaged 11.5 and 9.9 rebounds per game and will almost certainly improve on those numbers during the upcoming season.  It appeared at times that he could not be kept off the offensive glass and his best days are in the future.  Culver was a 2nd team Big 12 player and unanimous choice on the Big 12 All-Freshman last year.  This season, he could be the very best player in the Big 12.
West Virginia's Man Child, despite missing the first 10 games of the season due to disciplinary reasons, proved to be one of the best interior players in the Big 12 last year.  Bob Huggins, in an interview with WV MetroNews last season, said of Culver:  "Derek doesn't have a clue. It's amazing he gets done what he gets done, because he doesn't have a clue. If he will listen and put the time in and work at, he will be good."
In other words, Derek Culver was relying on pure natural ability and athleticism last year.  With a year behind him, a summer in the weight room, and starting the season with the rest of the team next year, his potential is limitless.  Combining with newcomer Oscar Tshiebwe to form the best interior combo in the Big 12 and perhaps the country, Culver has a real opportunity to become the Big 12's Player of the Year in 2019-2020.
Although NBA scouts have yet to take real notice of Culver, that kind of attention will no doubt come very soon.  Culver is raw offensively, but his body type and knack for rebounding is at a premium at the next level.  What's most surprising about Culver is his natural ability to pass the ball, which is not a skill that many big men possess.  With all of the talent in the world and him becoming more and more mature under  Bob Huggins, West Virginia fans better appreciate him while he's here because Derek Culver will soon be playing in the NBA.
2020 NBA Draft Prospect:

Derek Culver
Pos: Center | Ht: 6-10 | Wt: 255
School: West Virginia

?: West Virginia @ Oklahoma State (03/09/19) pic.twitter.com/zO41NLXhZb

— Matt Babcock (@MattBabcock11) July 25, 2019