West Virginia Gets One Player on Preseason All-Big 12 Conference Team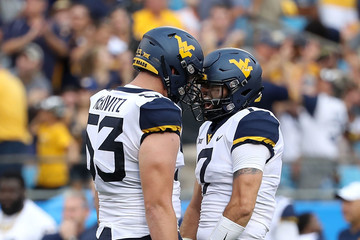 Coach Neal Brown and his West Virginia Mountaineers had one player named to the Big 12 Preseason All-Conference team. Senior offensive lineman Colton McKivitz was the lone selection from the Mountaineers.
McKivitz is a three-year starter at offensive tackle for WVU. He has started in 35 of the 38 games he has planed in. McKivitz has twice been named an All-Big 12 Honorable Mention. His offensive line play helped the team average 512 yards per game, which was No. 10 in the country and No. 2 in the Big 12.
Despite being projected as being an NFL Draft selection, the 6-7 313 pound tackle decided to come back and anchor the offensive line for first-year coach Neal Brown.
It's very likely that former Mountaineer safety Kenny Robinson would have been named to this team had he not decided to transfer.
As the saying goes, it's not how you start but how you finish. Sophomore defensive lineman Dante Stills will be looking to wreak havoc in the backfields of opponents and has a great chance at ending up as an all-conference player. With the inexperienced secondary the Mountaineers have, there will certainly be an emphasis on pressuring the quarterback this coming season.
As far as preseason individual awards go, quarterback Sam Ehlinger of Texas is the Offensive Player of the Year, linebacker Kenneth Murray of Oklahoma as Defensive Player of the Year and former Alabama and current Oklahoma quarterback Jalen Hurts was named Newcomer of the Year. Is it really surprising that Oklahoma and Texas sweeps the board?
On Wednesday the Big 12 media preseason poll will be released and the annual Big 12 Media Days will go down on July 15-16 in Arlington, Texas. They will be televised 10 a.m. to 2 p.m. ET both days on FS2.