West Virginia is STILL Bowl Bound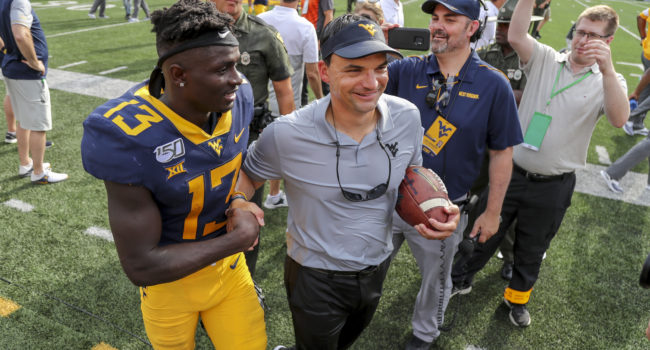 Aug 31, 2019; Morgantown, WV, USA; West Virginia Mountaineers head coach Neal Brown celebrates with West Virginia Mountaineers wide receiver Sam James (13) after beating the James Madison Dukes at Mountaineer Field at Milan Puskar Stadium. Mandatory Credit: Ben Queen-USA TODAY Sports
At 3-4 overall and a Thursday night game against a 7-0, #14 ranked Baylor team on the horizon, West Virginia's season may appear to be headed towards a losing season with no postseason play for the Mountaineers.
Although West Virginia has lost three straight games, they have lost these games to teams with a combined record of 17-4 (Texas (5-2), Iowa State (5-2) and Oklahoma (7-0).
Neal Brown, during his weekly teleconference, said that he plans to "hit the reset button" during practices over the next two weeks in preparation for West Virginia's game at Baylor on Thursday, October 31st at 8PM on ESPN.
Brown said, "We've got five games left in our season, and we're going to reset it.  We've got to get some things figured out on our end. We've got to make sure we've got our best personnel on the field at all times."
West Virginia's ground game has been awful, averaging 88.1 yards per game and ranked 126th out of 130 teams in the country.  Brown conceded that changes have to be made and added, "We're going to try and put even more focus on trying to get our run game on track and try some different things and different personnel,  and some different schematics and some different presentations run game-wise.  This team is not necessarily built to be a team that can throw the ball 50-plus times, so we've got to get ahead of the chains."
Brown echoed almost precisely what I said yesterday in my article "FACT:  West Virginia's Offense is the Worst in the Big 12 and One of the Worst in the Country", which can be found below:
An obvious "personnel changes" that can be made that will immediately improve the run game is Trey Lowe either getting more time, or perhaps getting all of the reps in the coming weeks.  Although Lowe got a few snaps against Oklahoma, Brown was very conservative in his play-calling when the Redshirt Freshman was in the game.
For West Virginia's offense to truly improve, Brown will have to trust Lowe and allow him to be creative and use his ability to scramble and move in the pocket.  Lowe's 11 yard run on a Zone Read quarterback keeper was a real highlight in an otherwise miserable offensive performance for the Mountaineers.  Lowe showed that the Zone Read can and will work with him as the quarterback.
With Lowe, the Mountaineers will keep it close against Baylor on Halloween night, but they may not be able to beat a very, very solid team on the road at night in Waco.  Regardless of the changes made, West Virginia will almost certainly fall to 3-5.
Texas Tech (3-4 overall, 1-3 in conference and 0-3 on the road) at home, Kansas State (4-2 overall, 1-2 conference record and 3-1 at home), Oklahoma State (4-3 overall, 1-3 in the Big 12, 2-2 on the road) and TCU (3-3 overall, 1-2 conference and 3-1 at home) round out the schedule.
In order to be bowl eligible, the Mountaineers would need to take care of business at home, beating both Texas Tech and Kansas State, and then win one game on the road against either Oklahoma State or TCU.  This is not only possible, this is likely.  
This season is not over and the West Virginia Mountaineers can still have a very successful season.  In Neal Brown's first year as the Head Coach, with the mass departures of key players, a 6-6 record and a bowl appearance would be an absolute triumphant year for Neal Brown and the Mountaineers.