WATCH: Massive Brawl Breaks Out End of Kansas-Kansas State Game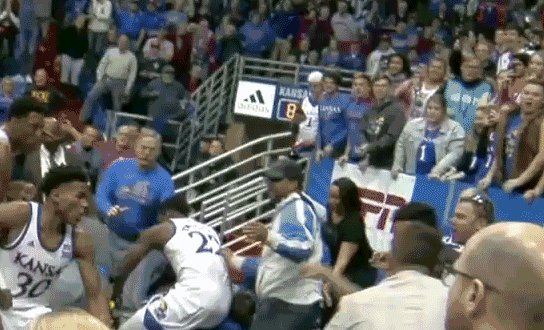 At the end of the Kansas-Kansas State game, a complete brawl broke out. When Jayhawks big man Silvio De Souza taunted Wildcats guard DaJuan Gordon after a blocked shot is when things popped off.
Some Kansas State players shoved De Souza to retaliate and from there a massive fight was underway with plays from both teams as well as non-players throwing and landing punches at "The Phog."
Massive Brawl Between Kansas and Kansas State
Fans, team officials and even arena employees were swept into the insanity. You can see De Souza throwing hands with a member of Kansas State who was wearing a black polo.
Things reached peak insanity when De Souza channelled his inner Hulk Hogan and picked up a folding chair with intentions of going for a chair shot.
What an embarrassing moment for these two basketball teams.