The Preseason Accolades Keep Coming in For Darius Stills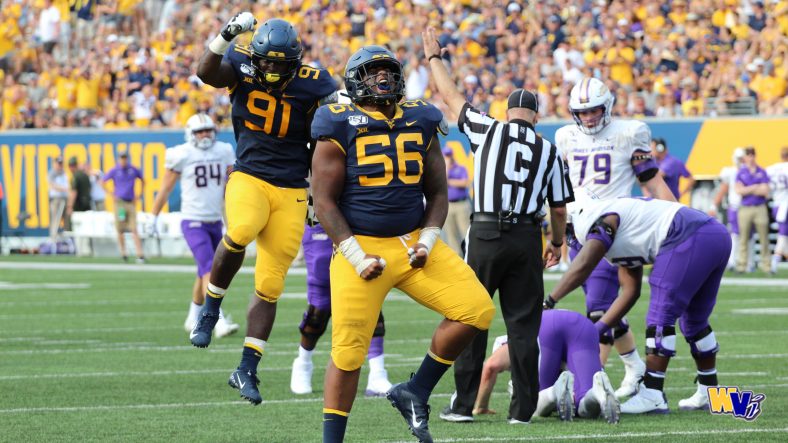 After a stellar junior season, Mountaineer defensive lineman Darius Stills is getting plenty of much-deserved hype heading into his senior campaign.
Thursday it was announced that Stills was announced to the Reese's Senior Bowl Top 250 Players to watch in 2020 list. The Reese's Senior Bowl is held every year just before the draft and allows the top seniors in the country to showcase their skills for NFL coaches and scouts.
Stills was also named the Preseason Big 12 Player of the Year by the Big 12 media. He was the only Mountaineer named to the Reese's Senior Bowl watch list.
Other preseason accolades for the former Fairmont Senior Polar Bear include the 2020 CBS Sports All-America First Team, the Athlon All-American Team and the Chuck Bednarik Award watch list, which is awarded to the best defensive player in college football annually.
As a junior Stills had seven sacks to go with a forced fumble. Him and his younger brother Dante have big plans for the 2020 season.
After considering the 2020 NFL Draft, Darius Stills is back for his senior year and Mountaineer fans everywhere are excited to see him on the field for one more season.
With the Stills brothers returning along with Jeffrey Pooler, Tajh Alston and redshirt freshman Jalen Thornton, there is plenty of experience returning. They will be joined by JUCO transfer Quay Mays with true freshmen Sean Martin of Bluefield and Akheem Mesidor pushing for playing time along with Maryland Terps transfer Bryce Brand.
The Mountaineer defensive line should be a strength for the 2020 season and moving forward.
Let's go Mountaineers!