The Four Horsemen – WVU Has Crazy Depth at Running Back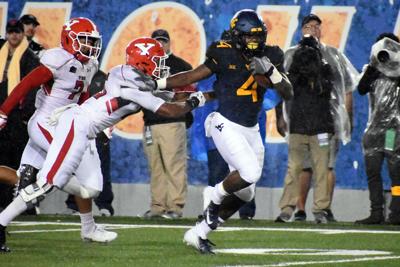 Coming into this season there are many positions where WVU lacks experience. Running back is not one of those as the Mountaineers have incredible depth there.
The WVU running back depth is so strong that the depth chart released in July had four running backs listed and none as the starter. There were two positions on the depth chart that said "or" between the players listed as there is no established started. One was quarterback where it says Jack Allison or Austin Kendall or Trey Lowe. The other is running back where it says Kennedy McKoy or Martell Pettaway or Leddie Brown or Alec Sinkfield.
With two linemen on the Outland Trophy watch list combined with a first year starter at quarterback, the rushing attack is likely to be the focal point of the offense for the 2019 season.
West Virginia has three running backs returning that had over 100 yards in a game last season. Sinkfield missed time due to an ankle injury or that number could have pushed to four. He actually started the game against Youngstown State and rushed five times for 24 yards before leaving with an injury.
Kennedy McKoy
As one of WVU Football's most experienced position groups, Kennedy McKoy says the running backs are seeing themselves as "the heartbeat of the offense." pic.twitter.com/AEKwGS6LkB

— Gold and Blue Nation (@GoldAndBlueNtn) July 2, 2019
The Lexington, North Carolina senior led the Mountaineers in rushing during his junior season with 802 yards on the ground, averaging 5.5 yards per carry and also led the team with eight rushing touchdowns.
It's hard to imagine McKoy not starting the season as the starter, but the running back on the field for WVU is likely to be a very fluid situation.
Martell Pettaway
Pettaway is also a senior. He had 623 yards during his junior year and averaged 6.4 yards per carry.
His two biggest games came against Texas and Oklahoma. Against the Longhorns Pettaway had 121 yards on nine carries to go along with two touchdowns. Against Oklahoma Pettaway had 15 carries for 76 yards and two scores.
After averaging 6.4 yards per carry last season one has to wonder what Pettaway would do with 20 carries in a game. With the incredible running WVU running back depth, that may or may not happen during his time at WVU.
Leddie Brown
The Philadelphia native four-star recruit was able to get on the field as a true freshman and was able to go over 100 yards in two different games. On the season he rushed for 446 yards on 91 carries, averaging 4.9 yards per carry. He had four rushing touchdowns as well as a touchdown reception.
Leddie Brown is built to carry the load. His hard running style combined with his size is a great combination to wear down opponent defenses. Look for him to be a real threat near the goal-line as well as in the fourth quarter when the Mountaineers are looking to wear down opposing defenses.
Alec Sinkfield
Sinkfield is the wild card here. As stated earlier, he didn't see a ton of time as a redshirt freshman, but the coaches thought enough of him to give him a start against Youngstown State. On the season he had 19 carries for 68 yards and a score.
While we didn't get to see a ton of Sinkfield during the past season, it's easy to see that he has the speed to get to the edge as well as the shiftiness to make defenders miss.
Who Will Carry the Load?
While all four of these running backs will get their fair share of carries this season, I really like Leddie Brown's chances to separate himself from the group. He came in as a true freshman and looked like the best option at running back multiple times during the season.
It's going to be fun to see these four talented backs rush the ball all season. While WVU has had a lot of good running backs over the years, it's hard to remember a team with this kind of depth at the position.