Steve Slaton Reflects on Ditching the Terps to Become a Mountaineer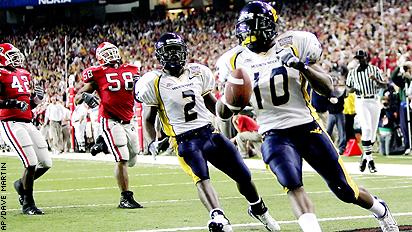 Pro Style Media is a really cool website that lets athletes share some of their best memories. Recently they talked with Steve Slaton about when he chose to go to WVU.
Steve talked about how he committed to Maryland early in his senior year because he didn't want to drag out the process. Before committing he had official visits to Maryland, North Carolina and WVU and said he loved all of the schools for different reasons. As far as how West Virginia goes he said it was the most family-oriented group he had been around.
Bill Kirelawich was the WVU recruiter assigned to him. Slaton described him as unforgettable. Even after Slaton had committed to Maryland Bill kept the heat on and sure he was going to get the Maryland running back to Morgantown.
Here is the final paragraph of Steve's story on how Maryland turned their back on him and opened up the door for WVU. Check it out, per Pro Style Media:
I was locked into Maryland until I got a call from a local Maryland reporter. My world was rocked after that phone call. He asked about my scholarship status.  Asked if I knew that my scholarship was revoked. So I jumped on the phone to call my Maryland recruiter James Franklin, and it seemed like weeks went by before I was able to get hold of him. When I finally did the answer I received about my scholarship status was "If they have an extra one leftover on signing day, I would be able to sign." At that moment I took back my verbal commitment and dove back into the world of looking for the next best place for me to spend my college football years. At this time most of the schools that had interest in me had already filled their specific needs.  The scholarships I was offered were based on me being strictly switching to a defensive player and not a running back. There was one school and one recruiter who I was still in touch with who believed in me to play running back – West Virginia. Part two coming soon….
What an awesome story. In honor of the great Mountaineer running back let's take a look at some of his career highlights in gold and blue:
Steve Slaton 52 Yard TD in the Sugar Bowl
Steve Slaton's 2nd 52-Yard TD in the Sugar Bowl
A Compilation of Steve Slaton's Top 5 Plays
Steve Slaton and Pat White
https://www.youtube.com/watch?v=rUgvCtO_OME
Steve Slaton and Pat White formed the best duo in the history of Mountaineer football.