RUMOR: If Mark Stoops heads to Florida State, Neal Brown will be pursued by Kentucky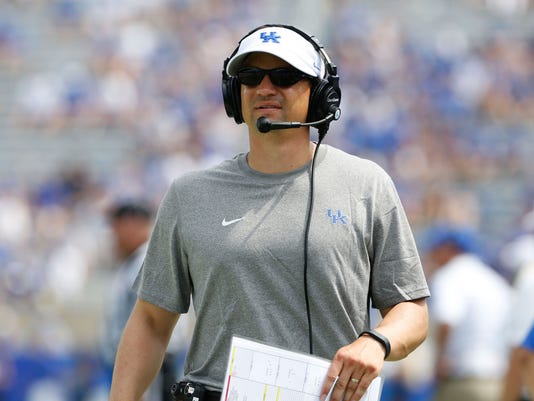 Willie Taggart was fired as the Head Coach of the Florida State Seminoles yesterday and one of college football's top jobs now sits vacant.
Florida State will have a pick of several talented coaches, including former Oklahoma Head Coach Bob Stoops, former Florida and Ohio State Head Coach Urban Meyer, Washington State Head Coach Mike Leach, Minnesota Head Coach P.J. Fleck, Clemson Defensive Coordinator Brent Venables, Cincinnati Head Coach Luke Fickell and FAU Head Coach Lane Kiffin.
One name that continues to be brought up to replace Taggart at Florida State is Kentucky's Head Coach Mark Stoops.  Stoops, the brother of former Oklahoma Head Coach Bob Stoops.
Mark Stoops has done an incredible job of turning around the football program at Kentucky.  Kentucky has struggled for a long time before Stoops came to Lexington and he has proven that he can take a perennial bottom-feeder in the always-challenging SEC and make them a contender.  Last year, the Wildcats won 10 games and beat Penn State in the Citrus Bowl.
In addition, Stoops has proven that he can compete at Kentucky, a school not known historically for football success, and an opportunity to recruit and coach in Florida would be an opportunity he simply couldn't pass up.  Stoops, who spent 3 seasons in Tallahassee as the Defensive Coordinator for the Seminoles, would likely jump at the chance if the opportunity presents itself and is right at the top of Florida State's list of potential replacements.
If Stoops leaves for Florida State, the Kentucky Head Coach position would be available and their very top choice would immediately be West Virginia Head Coach Neal Brown.
Although Brown is in his first season in Morgantown, Kentucky has always been the one job that West Virginia University has worried about with him because he is from Danville, Kentucky, played wide receiver for two seasons for the Wildcats and was also once the offensive coordinator from 2013-2014.
If there is any position that Brown might leave West Virginia for, it's Kentucky.  It's his home and he has a lot of history there.  In addition, they play in the SEC and have shown that it's possible to have success there.
A lot would have to happen for Brown to leave, but if Stoops goes to Florida State, Kentucky will almost certainly put the full-court press on Brown to come back home.
Note:  Brown's contract runs through Dec. 31, 2024.  If Brown leaves for another job before Dec. 31, 2020, he would owe West Virginia $4 million.  That personal buyout drops to $3.5 million the following year.