Prediction: 5 Years from Now, Neal Brown to Alabama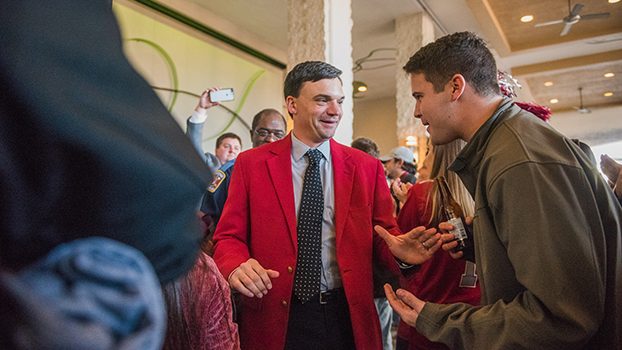 Disclaimer:  The views and opinions expressed in this article are those of the author and do not necessarily reflect the official policy or position of Mountaineer Sports. Any content provided by our authors are their opinion and are not intended to malign any religion, ethic group, club, organization, company, individual or anyone or anything.
West Virginia is not a final destination for Neal Brown, particularly if he has the kind of success here that we want him to have.  His six year $19 million dollar contract will likely be his only contract in Morgantown.
Imagine a scenario in which Neal Brown leads the WVU football program back to prominence, competes in a College Football Playoff game or two and then gets offered the world to go elsewhere.
Brown will be successful.  Keeping him here will be the real challenge.  The success will come much sooner than later; Brown's 2021 class is shaping up to be exceptional.  Isaiah Johnson, the 5 star cornerback and #5 overall recruit in the 2021 class from Bluefield, West Virginia, is a heavy lean to WVU.  Wyant Milum (5 star offensive lineman and 40th ranked overall prospect from Huntington, WV) is a toss-up between West Virginia and a few other schools.  Zeiqui Lawton, a 4 star defensive end and 46th ranked prospect nationally from Charleston, is almost a lock for the Mountaineers.
In other words, WVU will have big-time, in-state talent in a few years and the future in Morgantown is very, very bright.  Brown's on and off the field success will lead to massive amounts of attention from other programs and if things go as plan, he will be the hot commodity at the end of his contract.  His youth, his experience, and his ability to lead will make him the ultimate candidate for any school in the future.  There is no other program more attractive, more lucrative and perhaps more in need of a coach in 5 years than Alabama.
Five years from now, legendary Head Coach Nick Saban will be a 72-73 year old man and while he remains a model of excellent health, coaching into your 70s at the highest level in college football becomes more and more challenging every year.  Saban's lifespan as a Head Coach in Tuscaloosa is likely somewhere in the 3-7 year range; his current contract expires on January 31st, 2025.
In addition, Brown has lived in Alabama and is widely respected by the people there for turning around Troy, a program that was mired in mediocrity prior to his arrival.
The best case scenario for West Virginia and perhaps Neal Brown himself would be a 5 year successful partnership.  At the end of Brown's contract, he will be a relatively young 45 year old with experience coaching in a big-time conference and presumably loads of success.  While Neal Brown probably does not see WVU as a stepping stone to bigger and better things currently, the likelihood that this is his final stop seems highly unlikely.  The success that he…that we plan for him to have will change everything.
Brown will learn from the past and do things the right way.  He has far more integrity than former coaches and will speak to the fans, to the people of the state, and make things right before moving on.  His time here will be memorable but unfortunately all too brief.