Oklahoma Gets Revenge, Defeats West Virginia 92-80. Half-Empty Student Section Sings Country Roads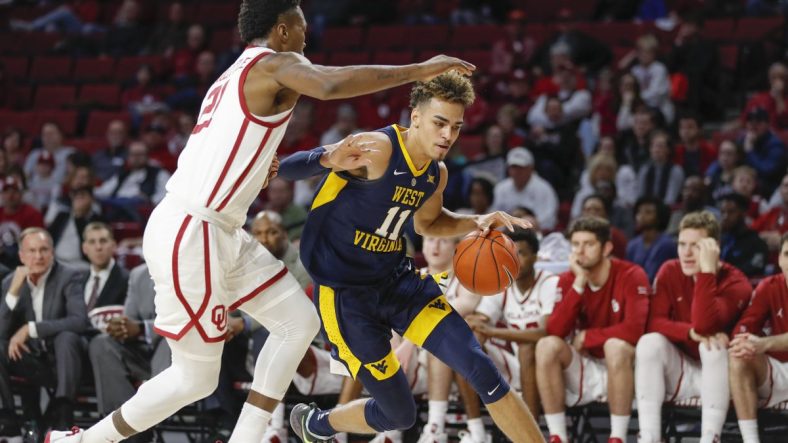 NCAA Tournament hopeful Oklahoma got a much needed win over West Virginia by a final score of 92-80. This win keeps the Sooners solidly in the field of 64. A loss would have pushed the Sooners "on the bubble."
Jamal "Sleeping With" Bienemy and Aaron Calixte led the way for the Sooners with 22 points. The Sooners were hot from deep, going 10-for-21.
West Virginia was led by Jermaine Haley who had 23 poiints, six rebounds and five assists, shooting 9-for-11 from the field. Jordan McCabe continued his recent surge with 18 points after a tough first half. Derek Culver just missed a double-double with nine points and nine rebounds.
West Virginia took a 17-9 lead with 14:31 to go in the first half after two McCabe free throws. It was downhill from there as Oklahoma finished the half on a 33-11 run, taking a 42 to 28 lead into halftime.
West Virginia was strong on the glass, outrebounding Oklahoma 35 to 27.
The closest West Virginia was able to get was nine points, when they closed to within 80-71 with 2:36 left after a McCabe three, but it was a case of too little too late.
Near the end of the game, the Sooners paid tribute to West Virginia when their half-empty student section sang "Country Roads."
https://twitter.com/mountaineertay/status/1101965740582813696
With the loss the Mountaineers still have not won a game on the road this season. Up next the Mountaineers host Iowa State on Wednesday night at 7 p.m. It will be televised by ESPNU. This will be their last chance of the season to get a road win.