Neal Brown is WVU's Most Intelligent Head Coach Ever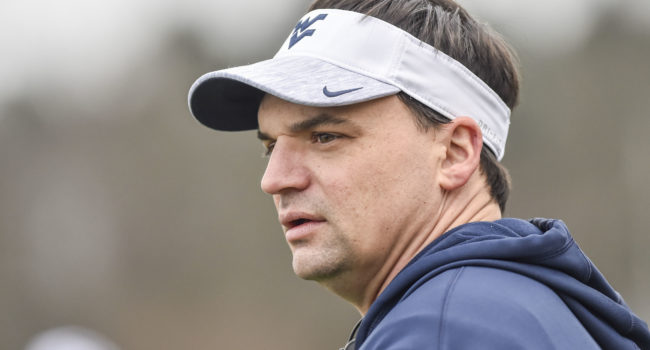 West Virginia Mountaineers head coach Neal Brown during practice on Friday.
Behind Neal Brown's extreme southern drawl, it's easy to forget how absolutely brilliant this man is.  West Virginia University is incredibly lucky to have him as the Head Coach of the Mountaineers.  Brown's game plan against North Carolina State was an absolute masterpiece on how to take a team that was missing multiple starters at various positions and put them into position to win. 
With a weak offensive line and starters Josh Sills and Mike Brown out of the lineup, Brown's only option was to adapt and figure out a way to make it work and win.
"We re-created ourselves trying to find ways to put our offensive line in a better position," Brown said. "You can't continue doing the same things. As coaches, just because we've had success doing certain things in the past, you have to adapt. It's not about what we're the most comfortable with; it's about what our kids can do the best. You keep trying until you find some things that work."
Strategically, Brown went to a quick passing strike loaded with lots of pre-snap shifting and movement designed to confused the defense.  Rather than Kendall dropping back into the pocket, he was advised to quickly got rid of the ball on screens and end arounds to speedy receivers in motion.  This opened up the running game for the first time this season and the offense looked almost unstoppable at times against a very good NC State defense.
Following his team's humiliating loss at Missouri, Brown was not left scratching his head looking for answers after the loss.  He knew exactly why it happened and saw it coming way in advance.  Brown also realized what Missouri did to beat them, learned from it and adapted.  His team is full of deficiencies and areas of weaknesses, but, like the television analyst said during the NC State game, "Neal Brown is playing chess while others are playing checkers."  He will always have his pieces in the best spots to win games.
If West Virginia struggles or has a bad game for the remainder of this season it will not be due to a lack or preparation or coaching schemes.  Neal Brown and his staff are very prepared, very thorough and very intelligent football minds that know how to win football games.