News and Notes: Mountaineer Linebacker Charlie Benton Out For Season, Updated Depth Charts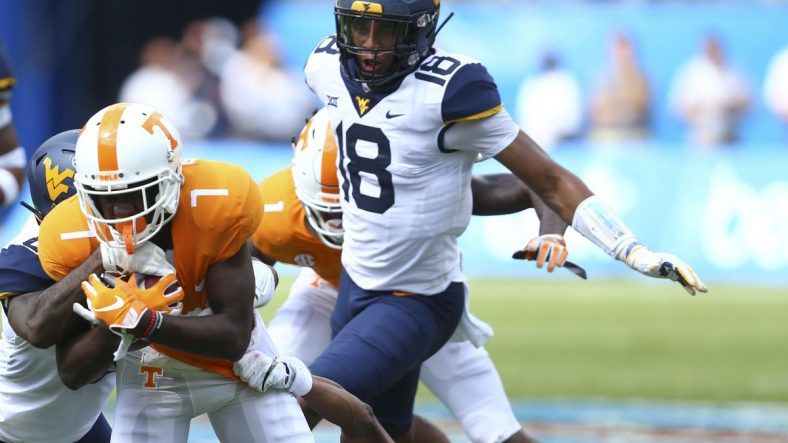 On Monday West Virginia head coach Dana Holgorsen confirmed that Mountaineer linebacker Charlie Benton will miss the rest of the 2018 season and will undergo knee surgery.
Benton left the game against Tennessee early in the second quarter. When Volunteer running back Tim Jordan rolled up on his left leg he exited the game. The exact diagnosis has not been revealed, but it's very likely it's either an ACL or MCL.
Mountaineer Linebacker Charlie Benton Out For Season
I asked #WVU's Dana Holgorsen about LB Charlie Benton's knee injury, and he says the sophomore "is lost for the season."

— Allan Taylor (@GAllanTaylor) September 3, 2018
Benton was a part of the 2018 recruiting class. He came from Butler Community College. This makes three Mountaineer linebackers who are sidelined by knee injuries, after Quondarius Qualls and Brendan Ferns. Both of these linebackers could return later in the season, though it's not a sure thing.
Injuries and game play means updates in the depth chart. Here's Coach Dana Holgorsen's updated depth charts for week 2, per 247Sports:
West Virginia Week 2 Depth Chart
Offense

QB: Will Grier, Jack Allison

RB: Kennedy McKoy, OR Martell Pettaway, OR Alec SinkfieldOR Leddie Brown
FB: Logan Thimons, Elijah Drummond

WR (X): Marcus Simms, Dominique Maiden
WR (Y): Gary Jennings, William Crest
WR (Z): David Sills V, T.J. Simmons
TE (H): Trevon Wesco, Jovani Haskins

LT: Yodny Cajuste, Kelby Wickline
LG: Josh Sills, Michael Brown
C: Matt Jones, Jacob Buccigrossi
RG: Joe Brown, Isaiah Hardy
RT: Colton McKivitz, Chase Behrndt

Defense

DE: Ezekiel Rose , Reese Donahue
NT: Kenny Bigelow, Darius Stills
DE: Jabril Robinson, Dante Stills

Sam: Exree Loe, Shea Campbell
Mike: Dylan Tonkery, Adam Hensley
Will: David Long, Josh Chandler

LCB: Hakeem Bailey, Keith Washington
RCB: Derrek Pitts, Josh Norwood

Spur: Dravon Askew-Henry, Deamonte Lindsay
Bandit: Toyous Avery, JoVanni Stewart
Free: Kenny Robinson, Sean Mahone

Special teams

K: Evan Staley, Luke Hogan
P: Billy Kinney, Evan Staley
LS: Rex Sunahara, Kyle Poland
H: Billy Kinney, Luke Hogan
KO: Evan Staley, Luke Hogan
PR: Marcus Simms, David Sills V
KOR: Marcus Simms, Gary Jennings
There are some Mountaineer fans out there who may have been expecting a demotion for Kennedy McKoy. It's important not to overreact after one game, but so far it has not been a campaign for the running back.