Mountaineer Commit Aaron Lewis's Visit is This Weekend – And He's Bringing Some Friends Along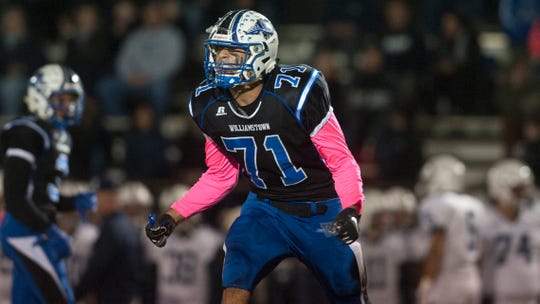 Back in April, New Jersey defensive lineman Aaron Lewis committed to WVU. Now he's trying to bring his Jersey buddies with him to get them in the old gold and blue.
Earlier Mountaineer Sports reported on Lewis's desire to get some of his undecided buddies to come to Morgantown. This weekend during his official visit, Lewis will be accompanied by three-star offensive lineman Chris Mayo of Hightstown, New Jersey and Tirek Austin-Cave, a three-star linebacker from Camden, New Jersey. This trip will also serve as the official visit for Mayo and Austin-Cave.
Additional to WVU, Mayo has received offers from Kentucky, Purdue, Arizona State and Auburn. West Virginia coaches Chad Scott and Matt Moore are doing all they can to get the 6-foot-5, 325 pound offensive guard to Morgantown.
West Virginia Official tomorrow ‼️‼️

— Chris Mayo (@chris_mayo76) June 13, 2019
According to 247Sports' Crystal Ball Predictions, Austin-Cave is a 100% lock of attending WVU. The 6-1, 203 pound linebacker holds offers from Miami, Syracuse, Minnesota and Baylor along with WVU. Chad Scott and Al Pogue are the WVU coaches recruiting Austin-Cave.
Having a 2020 commit play such an active role in getting other recruits to join him is such an asset. If all things go as planned hopefully we will be reporting on the Mountaineers landing two more commitments for the 2020 class in the very near future.