Massive Scandal Rocks College Hoops – At Least One Man's Name Is Missing From It
On Thursday there was a press conference that was supposed to be a look toward the coming season for the WVU men's basketball team. Events that went down in the past week shaped the topics that were discussed at Huggins' Thursday meeting with the media. A massive scandal has rocked college hoops. Fraud and corruption has been exposed in college basketball in what the Justice Department called "the dark underbelly" of college basketball. Bob Huggins did not shy away from questions about the issue.
Many coaches who Huggins have worked in close quarters with are affected by the scandal. For instance, Oklahoma State assistant Lamont Evans is one of the coaches facing federal charges. Huggins' long-time colleague Rick Pitino has been placed on leave and is, for all intents and purposes, gone.
Huggs was willing to speak about Pitino but more so he spoke of college basketball as a whole.
"There are some that do [cheat]," said Coach Huggins, "but there are people that don't obey the rules in every walk of life. It's not just us, but we get a lot more publicity, that's all."
Huggins was asked whether or not assistants could cheat and get away with it. You know, like Rick Pitino is claiming went down in Louisville.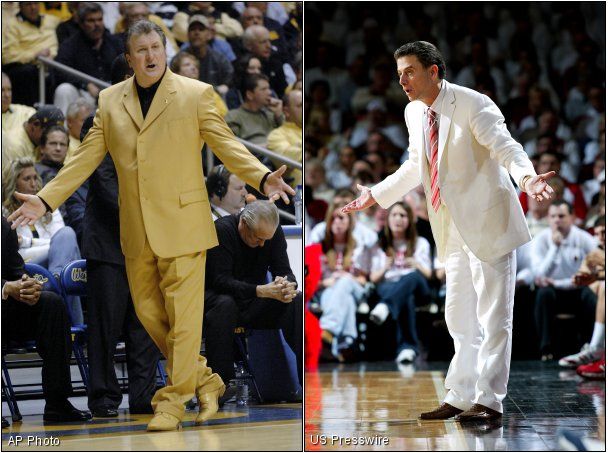 "Honestly, I don't know," Huggins said. "Could one of our [assistant coaches] do something I don't know about? Yeah. I mean, I'd find out. I may not know right away, but I would definitely find out."
"What our charge is, with the new [NCAA] head coaching responsibilities, is to make our guys understand what we're going to do, and what better not happen. And if they happen there are going to be very severe consequences. Our guys know that."
"I'm blessed though. I've got two guys [Ronnie Everhart and Larry Harrison] that have been head coaches and understand. Erik [Martin] played for me, so he has a pretty good understanding of how things work too."
Huggins spoke about one of the major components of an athletic administration that causes issues. The administration will hire a head-hunting firm which gives job to coaches based primarily on how well they recruit.
"I can promise you this: There's a hell of a lot more to what we do than recruit a couple of guys," said Huggins. "I talked to [WVU athletic director] Shane [Lyons] one time. It was before a game. I said, 'Shane, either one of two things [should happen: Either you need to fire me for the guys I've recruited or pay me for winning with these guys.'
"We don't have those top-whatever guys. We go get guys we think will be successful in what we do. For the most part, they have. Our guys are more in line with let's-go-work-and-let's-go-watch-a-lot-of-games [players]."
A high percentage of the players involved with this scandal were players who were very likely to have a future in the NBA. AAU basketball is another angle of this scandal. Huggins didn't come down hard on summer ball.
"You can go see a 6-10 guy [in high school] and he plays against 6-3 or 6-1 guys," Huggins said about AAU ball. "That doesn't help you [evaluate]. You can fly somewhere and spend a lot of money and he gets three fouls in the first two minutes. That's happened. This gives us an opportunity to see guys. People got to do the right thing, that's all."
While there are problems surrounding summer leagues, it's not the actual leagues itself.
When asked about Pitino, Huggs shrugged.
"Personally, I have a great relationship with Rick," Huggins said. "I had a good relationship with [ex-Connecticut coach Jim] Calhoun. If Rick wants to, he'll end up on TV.
"I think the thing you learn is you go to a coaches convention and [a coach] gets fired and [people say] 'Man, that's terrible. He's a good guy. Wonder who is getting that job?' It's that fast.
"Rick is one of the great coaches of all time, but, I mean, we're all going to pack it in at some point in time."
Huggins was also asked whether or not cheating can be eliminated.
"I don't know," he said. "I don't do it. It's kind of like a guy told me one time, if you take a poor kid and buy him a new washer/dryer, a couch and some chairs and maybe a decent bed to sleep on, then you're considered a hero and they put you in a parade. If we do it, we're criminals.
"There's some truth to that, but not much. Everyone at the end of the day has to answer to themselves. I don't know if I have a moral issue with it, but I couldn't coach it. I could never go into practice and have someone holding something over my head. That's the thing that would scare me about doing the wrong thing.
"If all of a sudden things go crossways with a guy for whatever reason, you're done. I don't know how they do it. I don't know how you're not held hostage. I couldn't do my job."
Coach Bob Huggins doesn't know the answer of how to deal with the massive scandal that has rocked college hoops. There is one thing for sure. The West Virginia Mountaineers men's basketball team and its fans are lucky to have Bob Huggins leading it and not have to worry about the issues these other major programs are currently dealing with.