Lincoln Riley Gives WVU and the Rest of the Big 12 Bulletin Board Material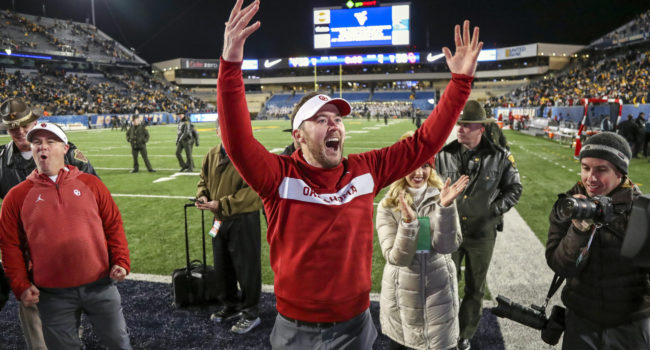 Since arriving in Norman, Lincoln Riley has won four straight Big 12 titles. Two of them came as offensive coordinator and the next two as head coach.
At this point Riley isn't even pretending to respect any of his opponents in conference play. While at the 2019 Citizens Advisory Board's Luncheon on Thursday, Riley was asked which Big 12 team gives him the most sleepless nights.
Riley's response? "The truth is none of them," per Josh Helmer of Sports Talk 1400.
Lincoln Riley at the Coaches Luncheon was asked which Big 12 team gives him the most sleepless nights: "The truth is none of them." #Sooners

— Josh Helmer (@JoshOnREF) July 25, 2019
As far as the Mountaineers go, they have done very little to instill fear into the Sooners. Since joining the Big 12, West Virginia has reeled off seven straight losses against the Sooners. Out of the seven losses only the most recent loss in Morgantown was a one score game, with West Virginia losing 59 to 56.
Of course when the West Virginia-Oklahoma series is discussed, we absolutely must bring up the demolition in the Fiesta Bowl, where West Virginia won 48 to 28 in 2008.
That said, 2008 was a long time ago. This past season was supposed to be the year it finally happened. West Virginia had quarterback Will Grier coming back to go with homefield advantage. It turned out Kyler Murray won the Heisman and put on a clinic at Mountaineer Field.
What about Texas? Shouldn't they be causing some stress for Riley? The resurgent Longhorns are coming into this season with a lot of hype. Also, Texas took down Oklahoma in the Cotton Bowl in the regular season showdown. Oklahoma recovered and took care of business against the Horns in the Big 12 Championship. Texas has closed the gap, but remember, this is a Texas team that had four losses last season, including a home loss to the Mountaineers.
As annoying as Riley is, his team has had complete command of the Big 12 during his two seasons as coach. Until someone knocks them from their throne, he can continue to sleep well and laugh at the rest of the conference.