Jevon Carter Makes Suns Preseason Debut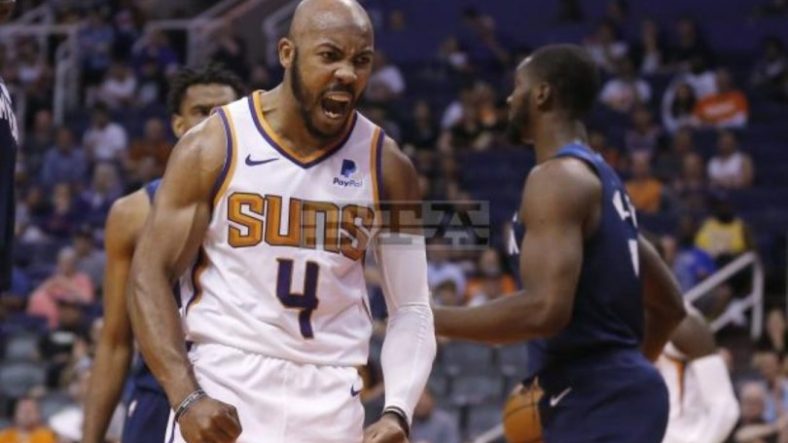 Last season did not go as planned for former West Virginia great Jevon Carter.  Adjusting as a rookie in the NBA is difficult enough, but bouncing between the Developmental G League and the Memphis Grizzlies roster made Carter's first year in professional basketball even more taxing.  Some days he would play a game with the Memphis Hustle, then travel to play for the Grizzlies later that night.  It was a topsy-turvy, whirlwind of a year for Carter and he struggled at times.
In 34 games that he played for the Grizzlies, he averaged 4.4 points, 1.7 rebounds, 1.8 assists and 0.7 steals per game in approximately 15 minutes per game.  The typically ultra-proficient Carter shot only 30.3% from the field and 33.3% from 3 point range.
With the Hustle in the G League, Carter played more Jevon Carter-like, averaging 18.4 points, 6.5 assists, 4.5 rebounds and 2.6 steals per game while shooting 43% from the field.  In addition, Carter played his usual aggressive, tough, smothering defense and proved that he could be a real stopper on the defensive end at the highest level in basketball.
Being traded after his first year with the Grizzlies had to have been disappointing for Carter.  Even though the new situation is likely a better fit for him, it's a disheartening feeling for any player to give his all to a team and then be shipped elsewhere.  Grizzlies former General Manager Chris Wallace called Carter "one of the finest defensive guards I've seen in over 30 years in the NBA" after drafting him last year.  Wallace was demoted to scout following the year and Carter was moved to the Phoenix Suns.
Phoenix represents a new opportunity for Jevon Carter.  Playing behind veteran point guard Ricky Rubio is an ideal situation for Carter.  He will be able to supply energy minutes off the bench during his first year and could have a chance to play heavy minutes with the injury-prone Ricky Rubio in front of him.  The Suns are a young, up and coming team that will be ready to compete in the NBA Western Conference in the next couple of years. Devin Booker, Tyler Johnson, Kelly Oubre, Jr., Dario Saric and Deandre Ayton form a young, exciting, competitive core for Carter to play with.
In his first preseason game with the Suns, Carter scored 9 points on 3-6 from the field, 3-3 from the foul line and 0-2 from three point range.
Jevon Carter knocking down corner 3s in pregame.

If that can translate in games, that's a gamechanger for him and #Suns.

Went 0-for-2 from 3 in Tuesday night's preseason win over Minnesota. pic.twitter.com/WF5t2MQZsB

— Duane Rankin (@DuaneRankin) October 9, 2019
West Virginia fans know Jevon Carter.  Having a down, disappointing rookie season will not sit well with him.  Being traded after his first season will only motivate him more, and the only thing more dangerous than Jevon Carter is Jevon Carter with something to prove.