Jarret Doege Should Start at Quarterback THIS SEASON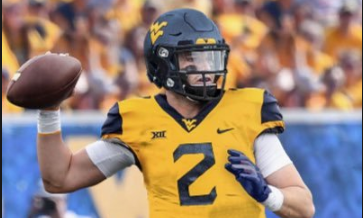 Jarret Doege, the transfer quarterback from Bowling Green, should absolutely be eligible to play for the Mountaineers this season.  Not only should he be eligible to play, he should start.  Doege clearly has the most experience of all of the West Virginia quarterbacks and was one of the best passers in the MAC last year, throwing for 2,660 yards and 27 touchdowns with a 62% completion percentage as a Sophomore.
In the past, transfer players were typically required to sit out one season prior to gaining eligibility at their new school.  However, the NCAA has grown more lenient on this rule and waivers are considered that meet the criteria under the membership established guidelines.
Tate Martell, the former Ohio State backup quarterback, decided to transfer to Miami over WVU after former Buckeyes Head Coach Urban Meyer decided to retire.  Justin Fields, the new starter at Ohio State, was also granted immediate eligibility after transferring from Georgia.
Some will argue that the Martell and Fields decisions opened up the floodgates for a college football "free agency", where players can move from school to school without any consequence.  This would frankly be a good thing; student athletes should be allowed to chose to do as they wish.  College athletes, particularly football players, are responsible for producing millions and millions of dollars for universities around the country and giving them the freedom to move without punishment is the least the NCAA can do for them.
Doege being denied immediate eligibility simply wouldn't make sense.  Despite several reports, including a recent Sports Illustrated article, that claim he will have to sit out the 2019-2020 season, it would go against every recent decision made by the NCAA regarding transfers.
Doege will have three years to play two and perhaps it's WVU that is not pushing for his immediate eligibility.  Head Coach Neal Brown is obviously not thrilled so far with the performance of the three quarterbacks (Austin Kendall, Jack Allison and Trey Lowe) competing for the starting position.  However, the low expectations of the upcoming season might make Brown consider asking Doege to use his two years of eligibility during the 2020-2021 and 2021-2022 seasons.
In the meantime while we await the NCAA decision on his eligibility, Doege participated in the Manning Passing Academy over the weekend.  The Manning Passing Academy is the premier offensive skills camp for quarterbacks and features some of the very quarterbacks in the country.
If Jarret Doege is the best quarterback that WVU has this year (and he is), then he should be the starting quarterback.  Doege is not only the most experienced, he's big (6'3), has a huge arm, is a tremendous leader and simply gives WVU the best chance of winning right now.