Is More Attrition Coming? Bob Huggins on Possibility of Backups Transferring: 'Why Not Leave?'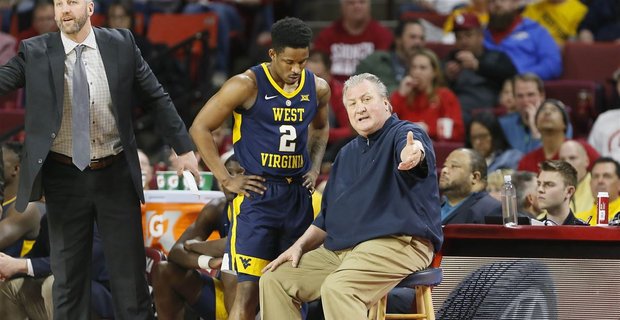 Tonight is Senior Night at the Coliseum. Luckily there are some student managers who are set to graduate or else there would be no guests of honor on Senior Night.
Having zero seniors on the team is a bad sign. Esa Ahmad was the lone senior on the team at the start of the season, but he has been dismissed.
Let's take a trip down memory lane and take a look at the 2015 recruiting class that Ahmad was a part of. The class included Ahmad, JUCO transfer Teyvon Myers, James Bolden and
Teyvon Myers was a guard off the bench during his two seasons in Morgantown.
James "Beetle" Bolden sat out the 2015-2016 season after suffering an ACL tear in his right knee a couple months before the season. His role increased from his redshirt freshman to his sophomore season and he was slotted to play a big role for the Mountaineers this season. That has not been this case as Bolden has been completely derailed by injuries during the 2018-2019 campaign.
Lamont West also sat out his first season at WVU. This was not due to an injury. West turned 18 just months prior to his freshman season at West Virginia and it was determined by Bob Huggins he was not ready to contribute to the team at that point of West's career. West's production has increased yearly during his career at WVU. During the 2018-2019 he has averaged 10.3 points per game and shown flashes of brilliance. He's also had games with very little production. His career at West Virginia has been marred by streakiness.
When you look at it as a whole, this is not an epic failure of a recruiting class, in fact it's a solid class. That said, no one on this team has stepped up and led the team this season. Ahmad was the top recruit of the class and in order for West Virginia to contend for the Big 12 title this season, they would have needed big things out of their senior big man. Obviously, that did not happen.
It's the classes after the 2015 class where attrition really had an impact.
Let's move on to the 2016 class. Sagaba Konate, Maciej Bender and Chase Harler. There's no need to get too deep into what this class has meant during the current season. Sags has been a no-show, Bender is long gone and Harler is a glue guy at best.
Those two recruiting classes should have been the foundation for the 2018-2019 team. Lamont West, James Bolden and Chase Harler leave a lot to desire when it comes to being the core of a winning team, especially when you consider the injuries to Bolden.
Then move on to the 2017 class. It consisted of D'Angelo Hunter, Brandon Knapper, Teddy Allen and JUCO transfer Wesley Harris. Only Knapper remains from this class. Wesley Harris was booted from the team. D'Angelo Hunter has transferred. Teddy Allen, who would easily be the best scorer on the team if he was still around, transferred to Wichita State. Brandon Knapper is in his redshirt freshman season and has shown some glimpses, but overall has not brought consistent production.
That leaves the 2018 class which consists of Derek Culver, Jordan McCabe, Trey Doomes, Emmitt Matthews Jr., and JUCO transfers Andrew Gordon and Jermaine Haley. This looks to be a very good class, but not the kind of class that can single-handedly lead a team to the Big Dance.
So how much has attrition affected the current edition of the Mountaineer team? Obviously a ton. Two freshmen, Jordan McCabe and Derek Culver, have been the biggest contributors to the team in recent games. Haley has been a big part of the rotation all season. Matthews Jr. appears to have an increasing role and will hopefully be a big part of the team going into next season. Gordon has been a big man off the bench and Doomes has seen action throughout the season. That's a lot of playing time being given out to the freshman class with zero McDonald's All-Americans.
Will there be anymore attrition? Bob Huggins seems to think so. Huggins said it was fair to think next year's team will have a very different look than this year's team.
"Obviously, it's going to be different," Huggins said.
Incoming recruits Oscar Tshiebwe and Miles McBride will fill the two scholarships vacated by Ahmad and Harris.
At this point Huggins is still looking to add JUCO prospects as well as high school recruits to come in and play next season. The number of players who leave is partially dependent on how many of those recruits are signed. April 15 is when the next signing period for college basketball begins.
"Tell me the last time we had 13 guys and they all stayed. The chances are pretty good that if you're playing behind somebody now, then you're probably going to play behind them next year. In today's world of instant gratification, why not leave? Particularly if you're going to graduate and we've got a bunch of them going to graduate," Huggins said.
The Mountaineers have three redshirt juniors who are set to graduate in May: James Bolden, Lamont West and Chase Harler.
Huggins didn't speculate on any names when it comes to who might or might not transfer.
When he was asked about his current players on the roster, he did call out his team's need for toughness: "We need toughness. We need a guy who is going to lock somebody down and not going to take alot of crap. This is the softest team I've ever been around."
If Huggins can keep the nucleus of McCabe, Culver and Matthews in tact and be joined by the very highly-touted Tshiebwe and McBride, maybe attrition wouldn't be the worst thing for this team moving forward.