Huggins: "Let's Go Win a Championship!"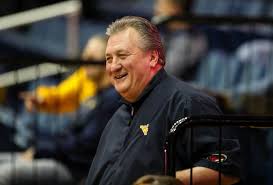 Last season will soon be a very distant memory.  Bob Huggins has been busy since the end of last year's dismal 15-21 season and WVU has the talent to compete with anyone in the country.
Huggins opened the season by addressing the crowd attending the Gold-Blue scrimmage game and seemed very, very upbeat about this year's team.
"These guys have been really terrific.  From the ten days we practiced before we went to Spain and spending time together in Spain…we didn't play under the best of conditions and didn't have the greatest officiating.  They've been great.  This is a class bunch of guys.  Practices have been going really well.  They listen and have been doing really well in class."
Huggins ended his pregame address to the fans saying, "Let's fill this place up all 18 times we're at home this year and let's go win a championship!"
Huggins has a lot of reasons to be optimistic for this season.  Coming off a very successful 3-0 trip to Spain, Huggins' team looked like a completely different group.  Even without freshman sensation Oscar Tshiebwe, the Mountaineers showed a cohesiveness and ability to score from multiple positions which they lacked last season.  An explosive offense to match the defensive intensity of all of Huggins' teams will be difficult for any team to handle.
In addition to Tshiebwe, who will be an absolute force in the paint as a Freshman, Huggins added his top two shooting guard targets with the additions of JUCO studs Sean McNeil and Tajzmel "Taz" Sherman, as well as Freshman guard Miles McBride, who looked like an already polished scorer and defender in Spain.
Consider this potential lineup in 2019-2020:
PG: McCabe/McBride/Knapper
SG: McNeil/Sherman
SF: Matthews
PF: Tshiebwe
C: Culver.
Mountaineer fans will forget all about last season in the coming years.  If you see Bob Huggins smiling a lot more this season, it's because the future is incredibly bright in Morgantown and he finally has the type of players again that can bring a national championship to West Virginia University.