Holgorsen's Losing Streak Against Ranked Team Reaches 9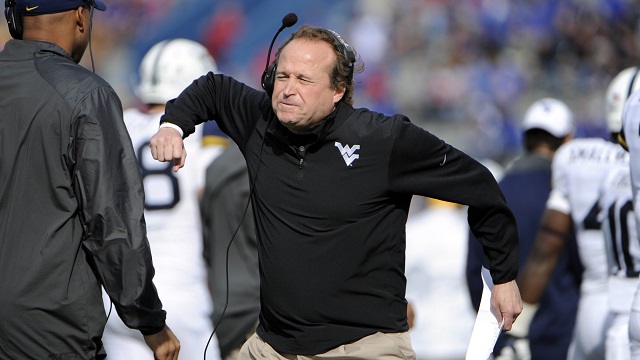 Losses are tough to take no matter the circumstances. Coach Dana Holgorsen's losing streak against ranked team reaches 9 after the loss to TCU. This has many WVU fans irritated about Holgorsen. It's important to remember that Dana isn't the only WVU coach to struggle with ranked teams.
WVU Coaches Records Against Ranked Teams
| Coach | Years | Record | Record vs T25 | Biggest Win |
| --- | --- | --- | --- | --- |
| Don Nehlen | 1980 – 2000 | 149-93-4 | 14-38-2 | #4 Miami, #4 Boston College |
| Rich Rodriguez | 2001-2007 | 60-26 | 12-14* | #3 Virginia Tech |
| Bill Stewart | 2008-2010 | 28-12 | 2-2* | #3 Oklahoma |
| Dana Holgorsen | 2011-Present | 49-33 | 6-17 | #4 Baylor |
So no WVU coach in the last 37 years has had a winning record against ranked teams.
Holgorsen's Losing Streak
Let's take a closer look at Holgorsen's current losing streak.
2014 #10 TCU Horned Frogs
The Mountaineer defense did a great job of shutting down TCU QB Treyvone Boykin, holding him to 166 yards passing. Unfortunately one of those passes was a 40 yard pass that put the Horned Frogs in range for a game winning field goal. The final score was 31-30.
2014 #12 Kansas State Wildcats
For the longest time Bill Snyder owned the Mountaineers. Despite being down 17 to 3 at halftime, the Mountaineers fought back. The deficit was too much to overcome and the Mountaineers lost 26 to 20.
2015 #15 Oklahoma
Oklahoma stormed out to a 24-7 halftime lead. WVU fought back to 27-24. Unfortunately after that Skyler Howard melted down with a fumble returned for a touchdown followed by consecutive interceptions. The Sooners won by a final score of 44-24.
2015 #21 Oklahoma State
Yet again the Mountaineers got down big by halftime. This time it was 17-2. The Mountaineers fought back to to tie it up before losing in overtime.
2015 #2 Baylor
WVU hung tough for a while, trailing only 27 to 27 at halftime. At this time Baylor had a devastating offense and they rode it to a 62-38 win.
2015 #5 TCU
Not a good trip to Fort Worth. Treyvone Boykin was so good even Dana Holgorsen high fived him. The final score was 40-10.
2016 #9 Oklahoma
The Mountaineers were fired up for this one and came out and got absolutely destroyed. It was over from the start as Oklahoma rolled, 56-28. WVU was able to post some big rushing stats, but did it really matter?
2017 #21 Virginia Tech
https://youtu.be/Sq4UH9J9CnM
The season opener at FedEx Field was another close but no cigar effort from the Mountaineers. WVU was able to pile up yards but in the end came up short on a late drive with the final score being 31-24.
2017 #8 TCU
https://youtu.be/NNLVbmlcris
Another close, frustrating loss to a ranked team. The Mountaineers rallied from down 17 to 3 with two big passing plays. Some huge mistakes, including a muffed punt, put the Mountaineers down early. Then the horrendous pass interference call against David Sills put the Mountaineers away.
When will the streak end? There will be more opportunities for the Mountaineers in 2017.