Halftime Observations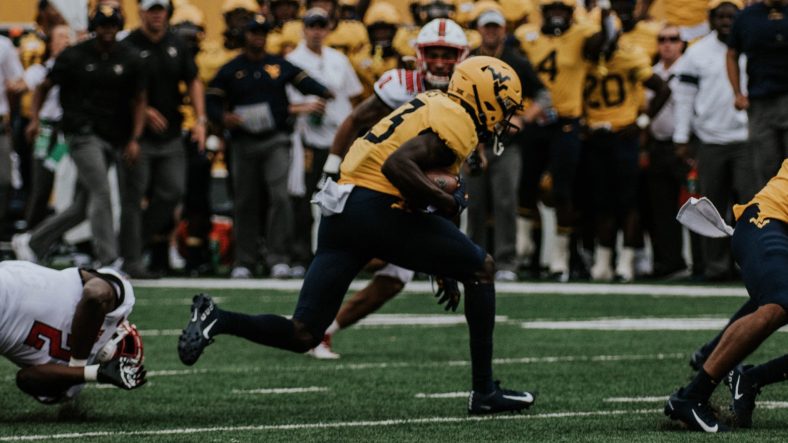 This has been by far the best effort that West Virginia has shown both offensively and defensively so far this year.
Despite the incessant defensive penalties (7 penalties for 55 yards), the West Virginia defense is playing with an edge that we haven't seen this year.  An enthusiastic, attacking defense looked a bit tired towards the end of the half and losing Josh Norwood to a targeting penalty will hurt; WVU will need an even better effort in the 2nd half to win this game.
Offensively, the quick passing attack has helped compensate for a weak offensive line.  Without starters Josh Sills and Mike Brown on the line, Neal Brown's offensive strategy has been brilliant.  Other than Austin Kendall overthrowing a few passes, the offense has been close to perfect.  Sam James can move!  The pre-snap shifts have confused the defense.  Tony Gibson's Wolfpack defense looks like they're on their heels and unable to contain the Mountaineers' offense.  One issue in the first half for the offense is 3rd down conversions, where they are 0-3 so far.
Austin Kendall is 17-22 with 173 yards, 2 touchdowns and 0 interceptions.  Wide receiver Sam James has 6 catches, 114 yards and 1 touchdown.
Kennedy McCoy's 23 yard touchdown run was a truly welcomed sight for Mountaineer fans!
The first half was a tremendous effort by the Mountaineers.  They clearly came to win, not just to not lose the game and this is the first time this season that West Virginia football has been fun to watch.   Looking forward to the 2nd half and a huge win for the Mountaineers at home!