ESPN Names West Virginia WR TJ Simmons 'Newcomer to Watch' in Big 12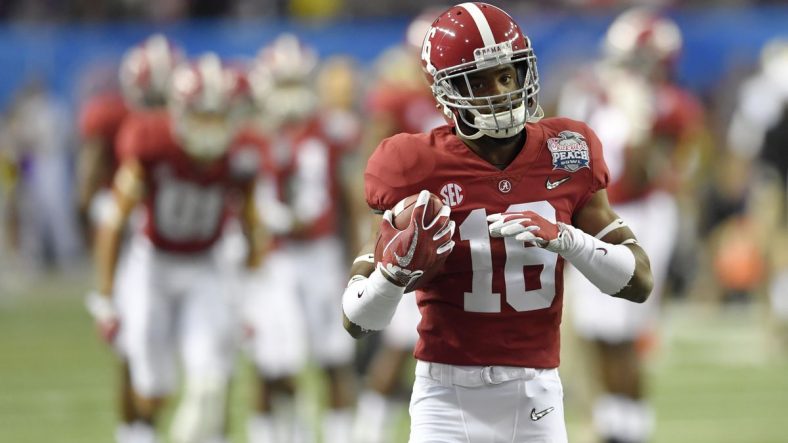 As if David Sills V and Gary Jennings Jr. aren't an incredible duo, they have help on the way. ESPN names West Virginia WR and Alabama transfer TJ Simmons a "newcomer to watch" in the Big 12.
The article listed three "newcomers to watch" next season in the Big 12. The other two are Baylor tackle Jake Fruhmorgen and Oklahoma defensive back Brendan Radley-Hiles.
Beautiful touch on this throw from #Alabama true freshman QB Tua Tagovailoa to WR TJ Simmons. pic.twitter.com/9PuBogoojZ

— Clint Lamb (@ClintRLamb) April 22, 2017
Per ESPN:
T.J. Simmons, WR, West Virginia: The former four-star recruit played special teams at Alabama before transferring after the 2016 season. He'll give Grier another pass-catching option.
You might recall that the Mountaineers have a pretty solid quarterback coming back next season by the name of Will Grier. ESPN realizes this as well. They listed Grier among three Big 12 "players to watch."
Check it out:
Will Grier, QB, West Virginia: He missed the final two games of the 2017 season because of a finger injury, and he goes into 2018 as perhaps the Big 12's biggest star. If Grier stays healthy, and West Virginia's defense improves, the Mountaineers might be Big 12 title contenders.
The jury is out on the Mountaineer defense, but the offense, especially the passing attack, is slated to be incredible. With David Long Jr. and Kenny Robinson being joined by incoming impact freshmen Dante Stills and Kwantel Raines, the defense is hoping to make huge strides under defensive coordinator Tony Gibson.
Meanwhile, the Mountaineer Men's basketball team is in the midst of a run deep into March. It could be a very special season for West Virginia basketball and football. Stay tuned!