Don Nehlen Meets with Football Team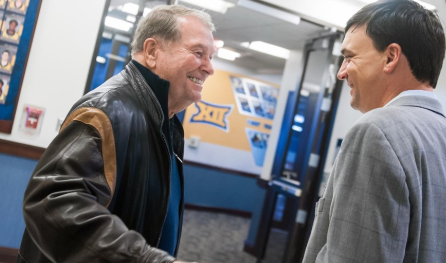 West Virginia's legendary former Head Coach Don Nehlen met with Neal Brown's current Mountaineer team today to provide insight and wisdom to the players.  Nehlen, who had a 149-93-4 record while at WVU from 1980-2000, is one of the most successful coaches in West Virginia sports history and still has a lot to offer the football program.
Don Nehlen, now 83 years old, led the Mountaineers football team as close to the National Championship as any coach in WVU history.  Nehlen's WVU team competed in the National Championship game against Notre Dame in 1988's Fiesta Bowl.  Star Quarterback Major Harris separated his shoulder on the 3rd play of the game and played injured throughout the 34-21 loss.  If Harris was healthy, WVU would have likely won the national championship that year.
When Neal Brown was hired back in January, one of the first people he met in Morgantown was Don Nehlen, who was there to offer support and advice on coaching in Morgantown.  Coach Nehlen left his meeting with Brown extremely impressed, saying, "He impressed me as just a good old-fashioned down-to-earth guy and he's excited to be here. He's from Kentucky he has a little bit of that Appalachian culture in him.  I don't think this guy's head will swell up if he won and I don't think he'll get too depressed i he lost.  That's very important about a leader."