Did Opportunity Just Knock for Will Grier?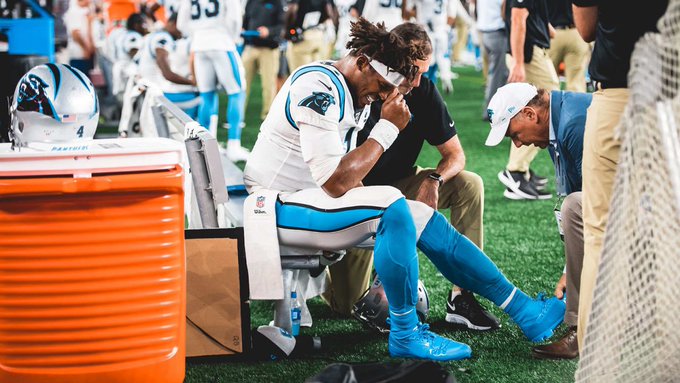 On Thursday night the Carolina Panthers had Cam Newton suit up and start at quarterback against the New England Patriots. Newton went directly into the fire and was sacked two times in the first quarter before being taken out of the game with a left foot injury. This was the first game action Newton has seen during this preseason.
Cam spent some time being investigated at the training table before being escorted back to the locker room.
Here is the play where the injury happened:
As the great Jay-Z  once said, "Somebody's loss is another's gain."
Obviously we would never root for a player to be injured. We certainly wish Cam the best. But this is a huge opportunity for Will Grier to come in and make an impression. Though this foot injury may not be serious, it's pretty clear that at this point in his career Cam Newton is going to have a heck of a time staying healthy.
After a tough outing against the Bills, it's important Will gets back on the field and gets things going in the right direction.
Just an awful decision here from Will Grier. He's not ready for NFL playing time. Nice to see Kevin Johnson make a play, could revive his career under Sean McDermott.
pic.twitter.com/cU3HAT9ihX

— Bobby Football (@Rob__Paul) August 17, 2019
More Stories on Will Grier: