David Sills V is on the Move Again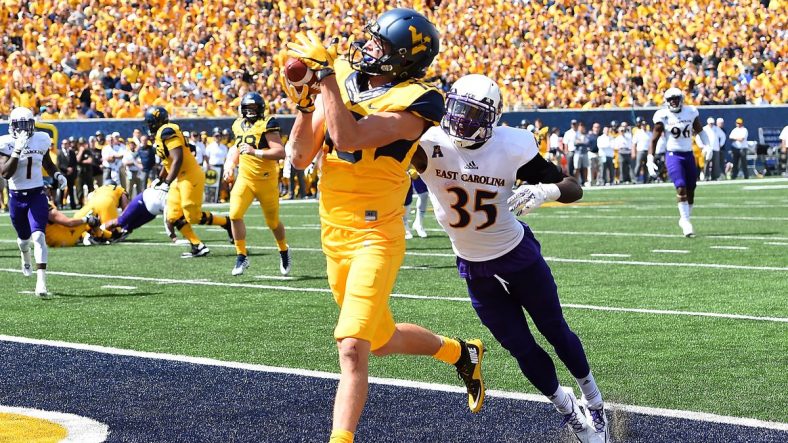 Geno Smith isn't the only former Mountaineer who had a wild weekend. On Thursday David Sills V caught the game winning touchdown in a preseason game against the New York Giants as a member of the Buffalo Bills.
While it looked like the odds of Sills sticking with the Bills looked long, the touchdown grab gave him some hope. It also gave the Bills a preseason win by a final score of 27-23.
Then on Saturday, Sills was released by the Bills. Despite the tough news for the Mountaineer, he still found time to tweet about the WVU victory over James Madison:
Now it turns out that Sills seems to have made an impression when he caught the touchdown against the Giants. Late Sunday night i twas reported that David Sills has been signed by the Giants to their practice squad.
Here's an interesting one: I'm told #NYGiants are signing former West Virginia WR and Bills UDFA David Sills to the practice squad, per source. Should become official tomorrow morning, and he would be the 10th.

Recap of the rest of today's events in here:https://t.co/mboiYHYXjW

— Art Stapleton (@art_stapleton) September 2, 2019
This could be a great landing spot for Sills. After moving on from Odell Beckham Jr., and drafting Daniel Jones, the Giants are in a big-time youth movement. If Sills shows promise as part of the practice squad, he could ge the shot he is looking for rather quickly.
It's been a crazy weekend for some Mountaineers in the NFL.
More Stories on WVU Players in the NFL:
Mountaineer Nation is still rooting for all of them. Once a Mountaineer, always a Mountaineer.