David Sills V Goes Undrafted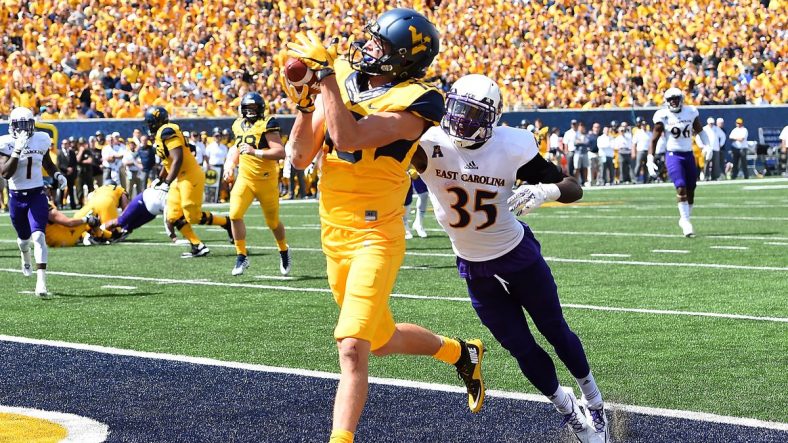 Despite being one of the top receivers in college football the past two season, Mountaineer wide receiver David Sills V has gone undrafted.
Sills was a touchdown machine for West Virginia, hauling in 15 touchdown passes in 2018 and 18 in 2017. He was Will Grier's number one target when the team made it to the red zone. His consistency in yardage was remarkable for his junior and senior seasons. He had 65 catches for 986 yards in his senior year and 60 catches for 980 yards in his junior year.
At the NFL Combine, Sills ran a 4.57 40. While this doesn't qualify him as a burner, he definitely has the speed necessary to get open and make plays in the NFL.
If you are a Mountaineer fan you know how well documented it is that Sills committed to USC and Lane Kiffin in the 7th grade as a quarterback. Since then Sills decommitted from USC, went to West Virginia, failed to win the starting job, went to junior college and then came back to West Virginia to team up with Will Grier as part of a prolific Mountaineer passing attack.
David Sills committed to USC at 13 years old, the youngest QB recruit in history.

Now, he's projected to be a middle-round pick at the NFL Draft — as a WR. pic.twitter.com/NpusQ0DqMd

— Bleacher Report (@BleacherReport) April 23, 2019
How is it possible that a projected middle-round pick and one of the top receivers in college football went undrafted?
Whoever picks up Sills as an undrafted free agent is going to get a receiver who is on a mission. Many would consider it is better for him to go undrafted than being selected in the seventh round since he now gets to weigh his options and choose the best situation for him.
Good luck David Sills, Mountaineer nation is pulling for you.