David Sills Establishes Himself As Biletnikoff Front-Runner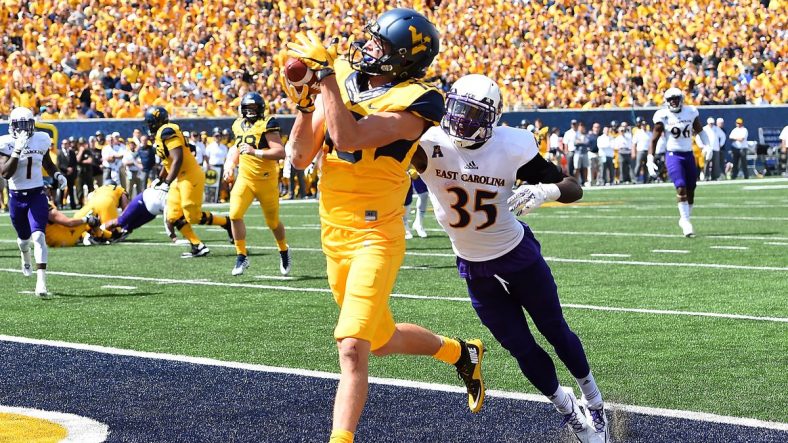 Despite for unknown reasons not receiving any Heisman consideration, David Sills has already established himself as the Biletnikoff Award front-runner.
It could be argued that the award is Sills' to lose with his 15 touchdown catches.
Despite nearly giving Baylor their first win of the 2017 season, Sills had an incredible effort, hauling in three touchdown catches. The Mountaineers were able to stay in the running for the Big 12 title with the win. A final stand keeping Baylor out of the end zone for a 2-point conversion sealed the win for WVU.
With is 15 touchdowns, Sills is destroying the competition. The next highest total is 9, with SMU's Courtland Sutton and Memphis's Anthony Miller tied for second place.
Sills ranks 10th in the country with 737 receiving yards. He has 46 catches. Gary Jennings lead the Mountaineers with 56 receptions. Both of these receivers just so happen to be on the Biletnikoff Award watch list.
David Sills and Gary Jennings Jr. Added to Biletnikoff Watch List
With such a deep receiving core, it would be easy for Sills to get lost in the shuffle. While Ka'Raun White and Jennings are getting loads of opportunities as well, Sills is simply making the most of his.
After joining the Mountaineers from the Florida Gators, Will Grier immediately built a great rapport with Sills. As you probably know, Sills began his career as a highly touted quarterback. His bond with Grier has paid off big-time in the WVU passing game.
Despite Sills being the big-time favorite for the award, he still has work to do. One of the leading candidates is James Washington of Oklahoma State. Washington just so happens to be headed to Morgantown as the Mountaineers and Cowboys will square off this weekend.