'Coal Rush' Uniforms Have Mountaineer Fans Excited And/Or Angry
Many Mountaineer fans have been supportive of the team sporting "Coal Rush" uniforms on Black Friday against Oklahoma. Other fans think it's a terrible idea. The concept seems to be driving a wedge between Mountaineer fans.
Here is the proposed uniform:
Coal Rush proposed uniforms
Keep signing the petition, tell your neighbors. This is happening. #CoalRush #WVUCoalRush @WVUADLyons @wmattwells pic.twitter.com/P6lJTSdJav

— WVU Coal Rush (@wvucoalrush) October 1, 2018
Just gonna leave this here… #CoalRush #WVUCoalRush @WVUADLyons pic.twitter.com/tzywsWzJhB

— WVU Coal Rush (@wvucoalrush) October 1, 2018
Some fans really were hoping to make this a reality. A petition to Shane Lyons was started on change.org.
As of Tuesday afternoon at 1 p.m EST, the petition had exceeded 8,000 signatures.
Matt Wells, the Senior Athletic Director of External Affairs, had since allegedly responded to the Coal Rush push and squashed all of the hopes and dreams of the Coal Rush fanatics.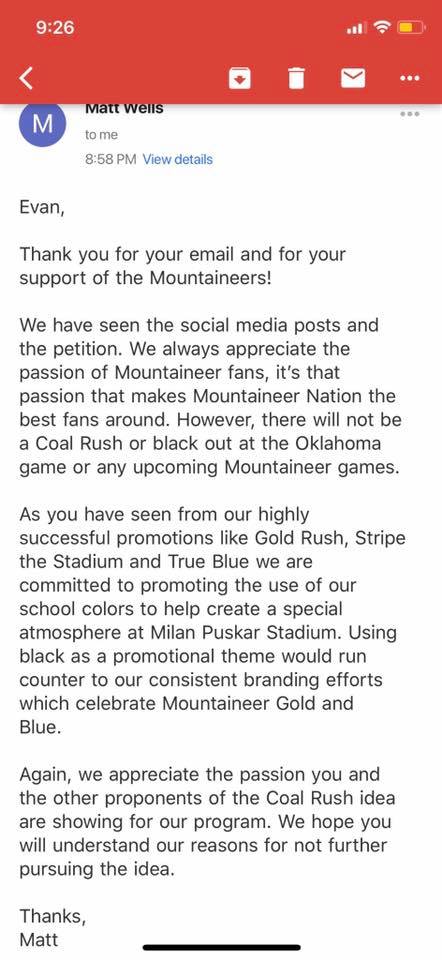 Sure, this is just a screenshot from some guy on Facebook. It was posted on Facebook.
People have even been calling for Dana Holgorsen to bring back the black shirt he once wore on the sideline during games.
Michael Miller at Smoking Musket took everyone who thought "Coal Rush" uniforms were going to happen to the woodshed. Here is a portion of the rant:
First of all, you're not going to get brand new uniforms made for the entire team on just over a month notice. Even if your 7,000 signatures on a change.org petition made Shane Lyons change his stance on black uniforms – which, by the way, would be the only time a change.org petition worked – there's no feasible way to get everything together in time. Throw in the fact that Lyons is vehemently against black uniforms to the point that the black accents were removed from this year's iteration of the current uniform style, and that you'd be asking Nike to change the current contract in the middle of the season, and you can already see why this just isn't going to happen. Besides, didn't some of y'all want to get rid of the contract with Nike just a couple weeks ago? Weird.

Let's move on to the other really dumb idea I've seen thrown around with this thing. Someone suggested turning off all the lights and having the team enter the field with miner lamps on their helmets. This one is mindbogglingly stupid on a level that I'm surprised even exists. Again, this would look cool if it could be pulled off but, logistically, it can't. We'd have to completely replace all lighting in the stadium with LED lighting before this could even be remotely feasible. I'm sure not many people screaming for this idea realize this, but STADIUM LIGHTS TAKE FOREVER TO TURN ON. There's a reason those lights get turned on when it's still daylight. I can't think of anything I want less than students stumbling over the railing in the upper level, and folks tumbling down the stairs while trying to get to their seats because some guy on the Internet thought it'd be cool to turn the lights off for a couple minutes.
Alright, this guy took things way too far, but I understand his stance.
Regardless, people should not be getting upset about this. Mountaineer fans are extremely passionate about their team and this just proves that further. "Coal Rush" is not going to happen and many people got unnecessarily angry about the proposal.
What can we take away from this? Mountaineer fans are super passionate and love their team. They proved it once again by getting so fired up with their approval and disapproval of the Coal Rush uniforms.
Our take: It's a great time to be a Mountaineer fan.