Bob Huggins Has "Made West Virginia Great Again"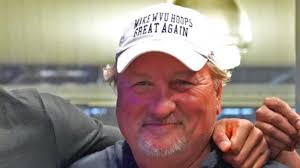 It's becoming more and more clear that if Bob Huggins can get a recruit to visit Morgantown, that he can convince them to make it their home forever.  Huggins has always been a spectacular recruiter, but now, in the twilight of his career, he has developed a family atmosphere within the walls of the Coliseum unlike any other in the country.  There, it is all love.  
Sophomore point guard Jordan McCabe has a lot to do with this.  McCabe is truly the ultimate teammate and ambassador for the state of West Virginia and the Mountaineer basketball program.  He is passionate about the program and our great state and he is likely at least partially responsible for the commitments of several of WVU's recent commits.
Huggins' formula for landing top-tier recruits is simple.  To begin, West Virginia has one of the best, most state of the art practice facilities in the country.  If you want to develop your game and become a better player, there's no better place than West Virginia University.  Not only are the facilities first-class, Huggins is one of the best ever at molding players and turning boys into men.  
Huggins' honesty, his passion for the state and his real love for his players is abundantly clear immediately to players upon meeting him.  While all other coaches promise recruits the world, Huggins is honest and explains that they will be given nothing and have to earn everything.  This honesty and straightforwardness is incredibly refreshing in a world of overwhelming deceit and dishonesty.  Players appreciate it and frankly eat it up.
After players see the facilities, learn about the passion of West Virginia fans, hear the open and honest pitch of Bob Huggins, one of the most successful coaches in college basketball history, they meet the current players and that's checkmate.  
From Oscar Tshiebwe, Miles McBride, Sean McNeil and Taz Sherman to recent commits Isaiah Cottrell, Seth Wilson, Taj Thweatt and Jalen Bridges, they all mentioned the family atmosphere as one of the primary reasons for deciding to attend West Virginia University.
West Virginia's current roster, led by the ultimate WVU ambassador Jordan McCabe and really great young men like Emmitt Matthews, Jr., make potential teammates feel like family.  When last year's "leaders" (Esa Ahmad and Wesley Harris) were dismissed from the team, McCabe and Matthews immediately changed the culture within the locker room.  If they weren't already Bob Huggins players, they became Bob Huggins players.  Hard work, defense, teamwork, putting the team before the self became the priority.
While players with seniority on last year's team fought against Huggins' philosophy for success, leaders on the current team embrace it.  Getting to practice early and staying late is the new norm.  Players on the team hang out and have fun together.  In other words, they are a family.  For players visiting Morgantown, it's almost impossible to visit and not want to be a part of it and stay forever.