Austin Kendall is the Starting Quarterback – The Question is "Why?"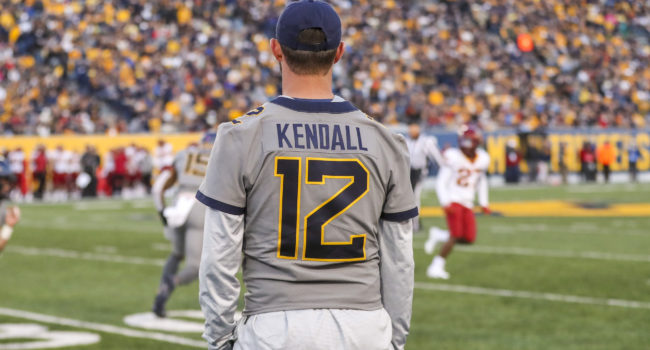 Oct 12, 2019; Morgantown, WV, USA; West Virginia Mountaineers quarterback Austin Kendall (12) watches a play from the sidelines during the fourth quarter against the Iowa State Cyclones at Mountaineer Field at Milan Puskar Stadium. Mandatory Credit: Ben Queen-USA TODAY Sports
As the only sports writer in the state of West Virginia with enough panache to question Neal Brown, it's my duty to point out the obvious sometimes.
With that said, Neal Brown's decision to continue playing Austin Kendall is baffling.  For Brown to blindly support a quarterback who clearly does not give West Virginia the best opportunity to win right now should be questioned and it should be questioned often.  
Despite the Mountaineers being one of the worst offensive teams in the country, Brown refuses to make sweeping changes to his offense.  Brown has promised to "hit the reset button" and "put the best personnel on the field", but who can make a significant difference if Austin Kendall remains in the office?  A change at the quarterback position is the only profound change available to make a real and immediate difference.
While many will argue that it's only the fault of the offensive line, the quarterback position simply means more to an offense than any other position.  Rather than "getting better around Kendall", Brown should focus instead on cutting off the head of the snake rather than focusing on the tail.
Following the Oklahoma game, Brown said, "Austin Kendall's our starter.  I thought he played well in the first half on Saturday. The second half, he did not perform as well as he needs to. He understands that."
Brown appears to be comfortable putting the blame on anyone and everyone except Austin Kendall, blaming his wide receivers and "the players around the quarterback."
"I thought he threw the ball really well. We had three, maybe four dropped passes in the first half. I thought he made really good decisions. The second half, his decision-making wasn't as good. He missed on several deep throws we needed to hit to be competitive in that game. But he's our starter. And that's how we'll move forward."
Jarret Doege has four games that he can play this season without losing future eligibility, but Brown has remained non-committal about him seeing any significant time this year, saying, "whether we'll play him or not is to be determined."
Doege is the most experienced quarterback on the roster and playing him now to prepare him for the next two seasons as the starter makes the most sense.  While Brown is an outstanding young coach, he may be too close to the situation to see the obvious.  Austin Kendall has had his chance and it's clear that he is not the future quarterback of this program.